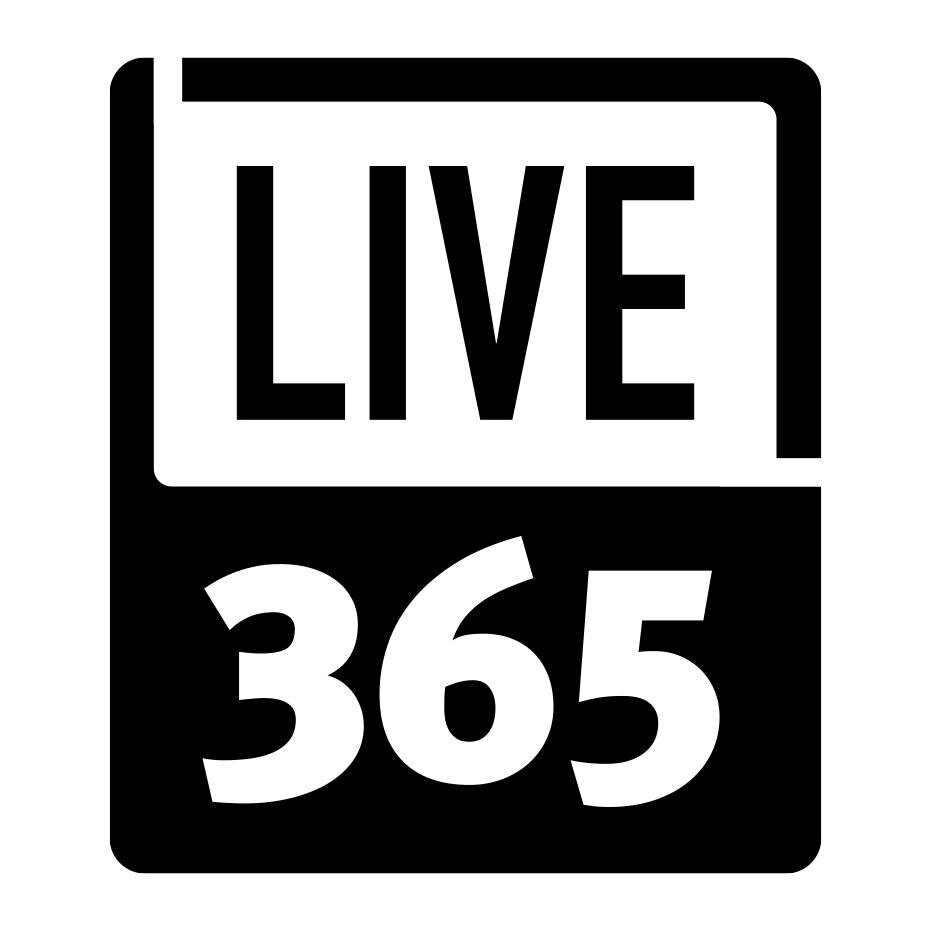 Here Are Some Useful Guidelines To Help You Start Programming Your New Live365 Station.
_
Enter Your Station Information:
From your activation email, please log into your station with the links provided. Your Login and Password should have been confirmed via these emails.
If you have any trouble logging into your station please email: support@live365.com
Your Station Name:
Your station name will be how listeners find your station on the Live365 directory and the title on your embeddable player. You can change this information at a later time if you so choose.
Your Station's Website:
If you have a website set up for your station please enter the domain here. If you set up a site at a later time you can return and include the URL here.
Please make sure to have the URL start with http:// or https://
Timezone:
Please choose the timezone from which you will be programming your station.
Station Genres: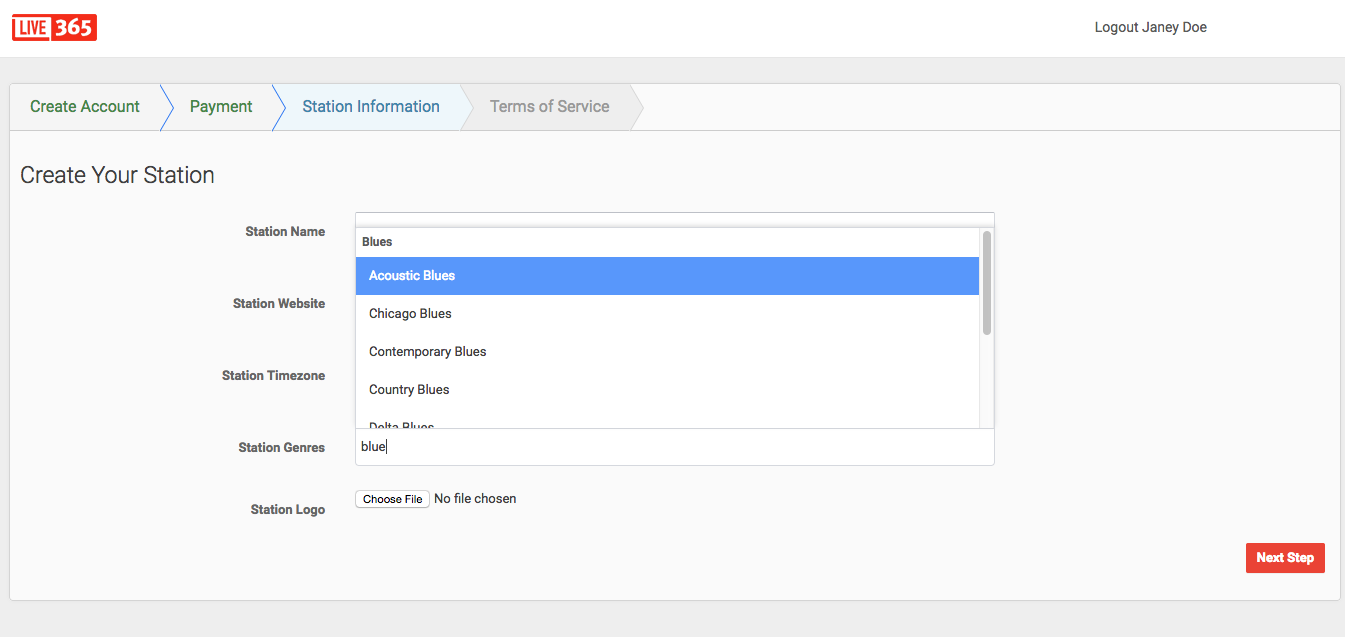 We currently have loaded into the system a series of main genres and sub-genres.
Begin typing a genre like "Blues" and the main genres and sub-genres will appear for you to choose.
You can choose as many genres as you like that will fit within the text area provided. Again, you can return and change these genres at any time.
These genres will be another way that listeners can find you on the Live365 Directory of stations at www.live365.com/listen.
If you do not see a genre you'd like included in the directory, email our support team: support@live365.com.
Station Logo:
Your station page and your station's player will include an area for your station's logo. Please upload an image here to populate those areas. The best size is 300px by 300px, but most importantly it needs to be a square.
Click NEXT STEP
Terms Of Service:
After review, please accept the Terms of Service by clicking on the red box ACCEPT TERMS. If you have any questions about this information please email us at support@live365.com.


__
Welcome to Your Live365 Dashboard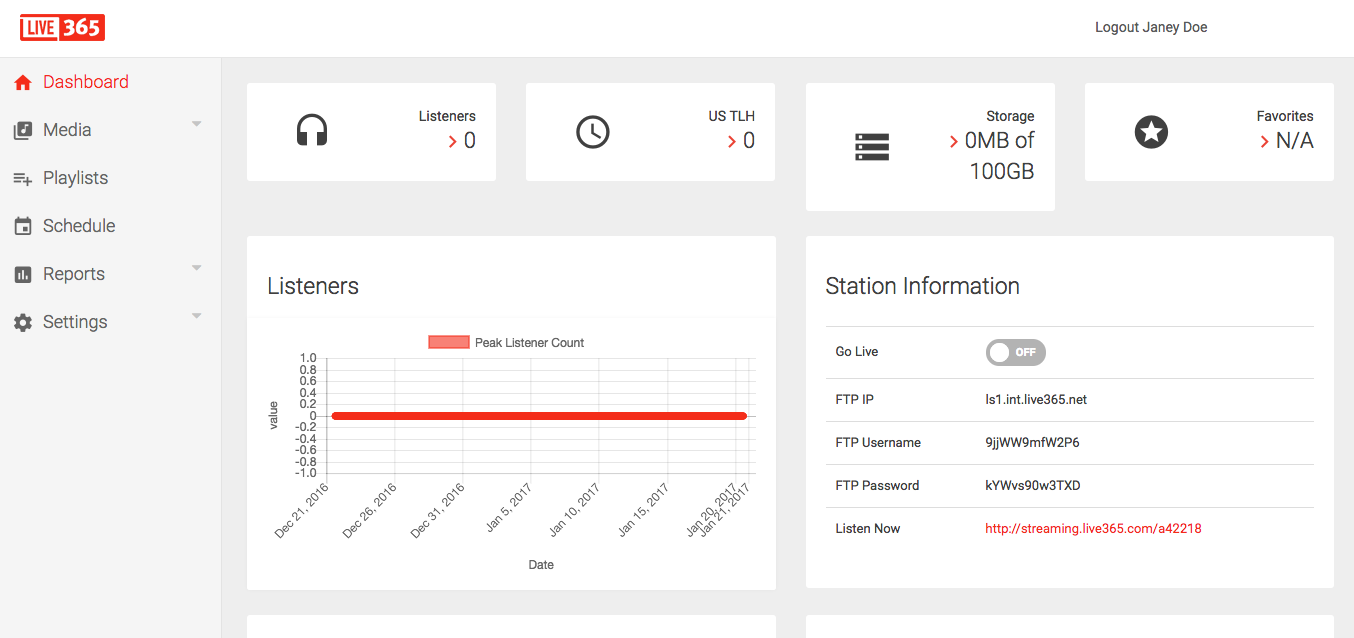 Your Live365 Dashboard will provide you daily information about the status of your station. You'll find daily stats on the number of simultaneous listeners, overall listener stats, and total US listening hours (TLH), aka ATH.
You'll also find a storage meter showcasing how much of your allotted storage has been taken up by the music and content you have uploaded. As you upgrade your station you can also add storage.
Regarding storage- we recommend that you only upload tracks that you plan on playing in the next 30 days. Your Live365 track storage is not a place for you to house your entire music collection. (just sayin ;-)
Station Information
Go-Live
Go Live refers to your ability to use a third party scheduler/automation software to program your Live365 station. You can use software like SAM Broadcaster, Radio DJ, StationPlaylist, OTS, Music1 and many others to follow. To learn more about activating a third party encoder from other programming software see our BLOG @ www.live365.com/blog.
FTP IP
If you'd like to bulk upload tracks to your storage locker you can log in via the FTP client using your Username and Password. Be sure that all your tracks are correctly tagged with Title and Artist information before uploading.
Listen Now
This is your station's direct play URL. Can you input this URL into any MP3 player and your station will stream. You can also load this URL into iTunes. This is also the URL you'll register with the many internet radio directories in order to share your station with online radio aggregators.
To Begin
We suggest you begin programming your station by uploading tracks. These can be music tracks and also pre-recorded tracks of your StationID, Station Jingles, or any other voice-tracking content you want to play as part of your programming.
Click on Media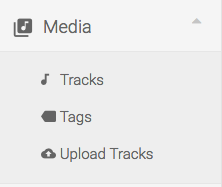 Click on Upload Tracks and choose tracks from your computer or external hard drive to upload. These will be stored in your stations media library and ONLY be available to you. At this time, Live365 does not have a shared music library. This is a feature we hope to add very soon.

Click on the green +Add Files button and choose the tracks from your computer. You can also drag and drop files from your hard drive into this window. If you upload tracks in bulk, we recommend doing so in similar, smaller groups, such as by artist or genre, and uploading promos and Station ID tracks separately to make for easier labelling. More on that below. Then Click the Blue Start Upload button.
When all tracks have finished uploading, Click the Red Apply Tags and Type button. It is currently the only way to add tags and type IN BULK. This step is HIGHLY recommended.
Once upload is complete and Tags & Type have been added, click back to the Tracks tab to see what you have uploaded.

Click on Actions menu to alter the meta tags (artist, title, album) or to delete the track. You can also double click anywhere on the track to edit the meta tags.
We encourage you to ONLY upload the tracks you plan to have active in your station. This is not a place to store your entire library.
If the track will play in the next 30 days, it should be in your storage/Live365 locker. Otherwise, best to keep your library on a separate computer or hard drive.
Add an IMAGE to your track:
To add album art or image to a particular track, find the track in the list and click on the Actions menu (or double click) to edit track.
At the bottom of the Edit Track window you'll see a "Choose File" button. Choose the desired image file from your computer.
You can also edit any of the other content for the track. Track type indicates what category an audio file belongs in, whether it be music, talk, promo, or Station ID.
This will help you when programming your station and it will inform the listener as to what is playing now.
Track Tags are ways to describe the track or artist that would help search-ability. Add artist name(s), genre(s), and descriptions to help listeners find your station, and connect to the music you play.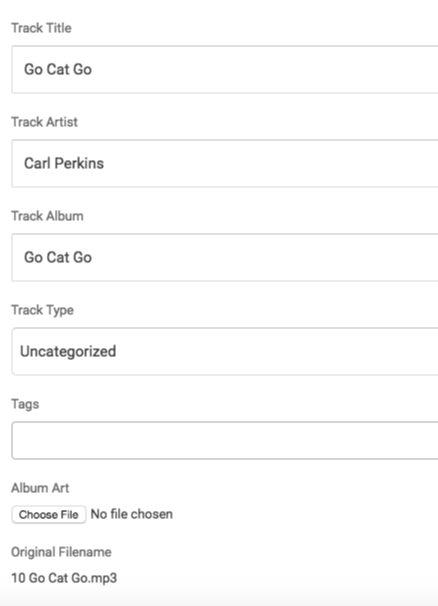 Note: if the SAVE button does not appear on screen, access the View menu in your browser and zoom out until the SAVE button is visible.
Creating Playlists:
Click on the Playlist section on the left navigation bar. Create your first playlist by adding a name in Playlist Name section and click ADD.
How you program your station is totally up to you but one way to consider is creating playlists that center around the day of the week. This makes it easier to program your station in the scheduler section.
For example we created the playlist Monday AM.

Click on the playlist name to go to the playlist creation page.
On the left side you should see the tracks uploaded to your library.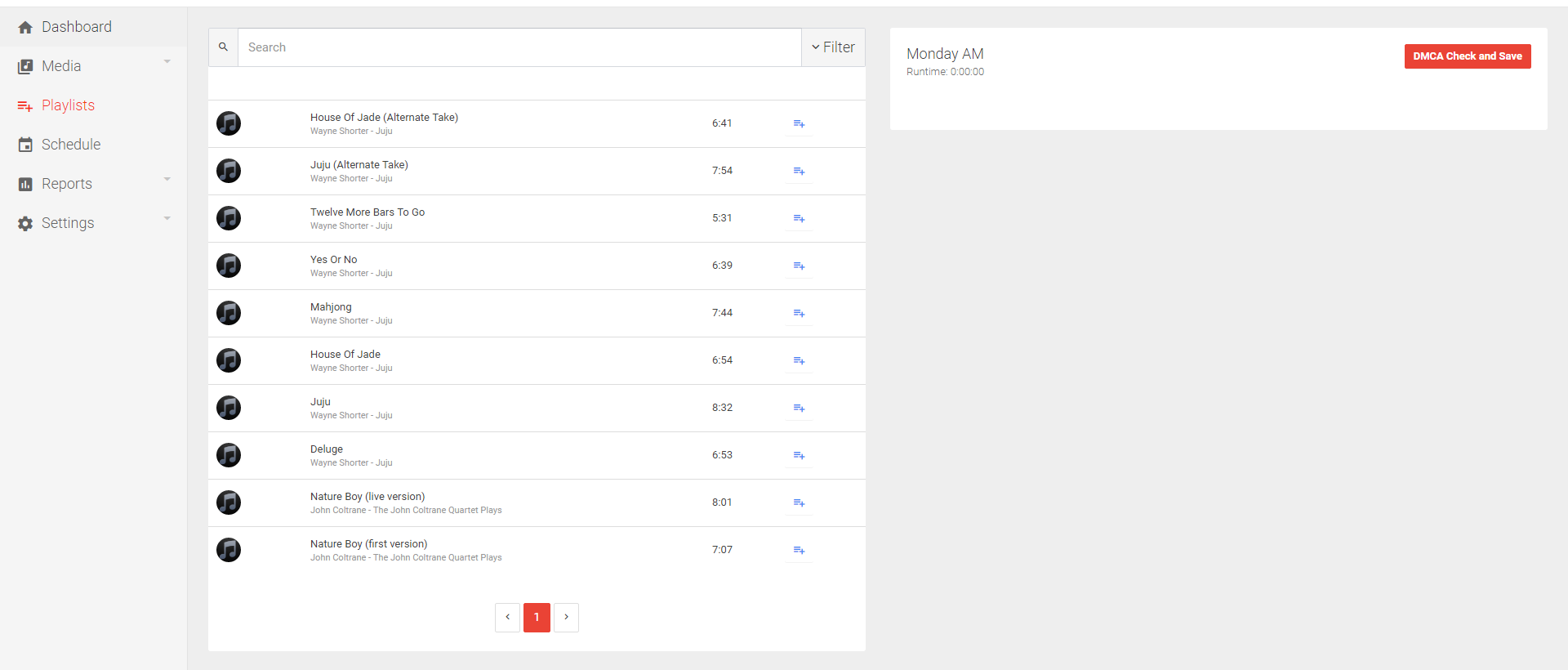 To add tracks to your playlist click the

button to the right of the track length. You should see the track is now in the playlist.
Add as many tracks as you like to create the perfect playlist for Monday AM.
Refine the search of your music library by clicking the

button found at the right hand edge of the search bar. This is where Meta Tags come in handy as you can search your entire library based on artist, title, album, or tag.

Please note - when creating playlists you have to comply with a law called the DMCA (Digital Millennium Copyright Act).
The DMCA was enacted to protect artists from having internet radio broadcasters upload their entire albums in sequence.
So the DMCA primarily restricts you from repeating an artist too many times in a row. See below. We realize much has changed with online music since this law was enacted but it is still a law today.
Once you have created your playlist, click on the DMCA Compliance Check and Save button to make sure your playlist passes the DMCA test.
Thank you for your assistance. We hope to work on the overturning of such a law in the near future. Until then you must comply or your station will not be allowed on-air. Thank you for your understanding.
More about the DMCA:
DMCA requires:
In any three-hour period, you should not intentionally program more than three songs (and not more than two songs in a row) from the same recording; you should not intentionally program more than four songs (and not more than three songs in a row) from the same recording artist or anthology/box set.
https://live365.com/blog/dmca-compliance/
Scheduling:
Click on the Schedule section on the left navigation bar. Create your first scheduled event by clicking the Create New Event button in the upper right hand corner of the page. You can also click on the time itself.
Next, give your event a name, select the date and time you wish the event to start, the duration you'd like it to run, which playlist with which you'd like populate the event, and whether or not you'd like Overrun to occur at the end of your event (Overrun allows the current track to finish playing before the next event starts).
Then click Save Changes.
If your event passes the DMCA check, your schedule will show the event you just created.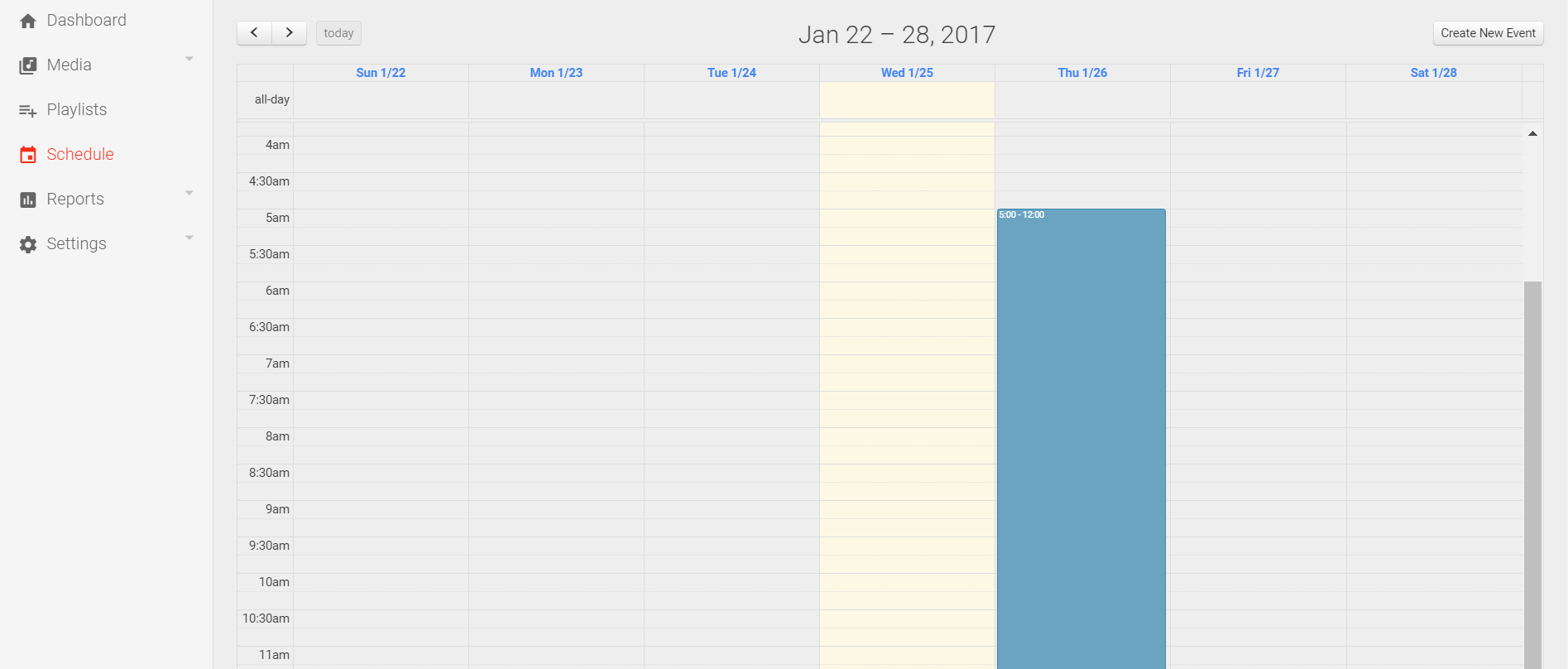 If you made a mistake and would like to delete the event, click on the event…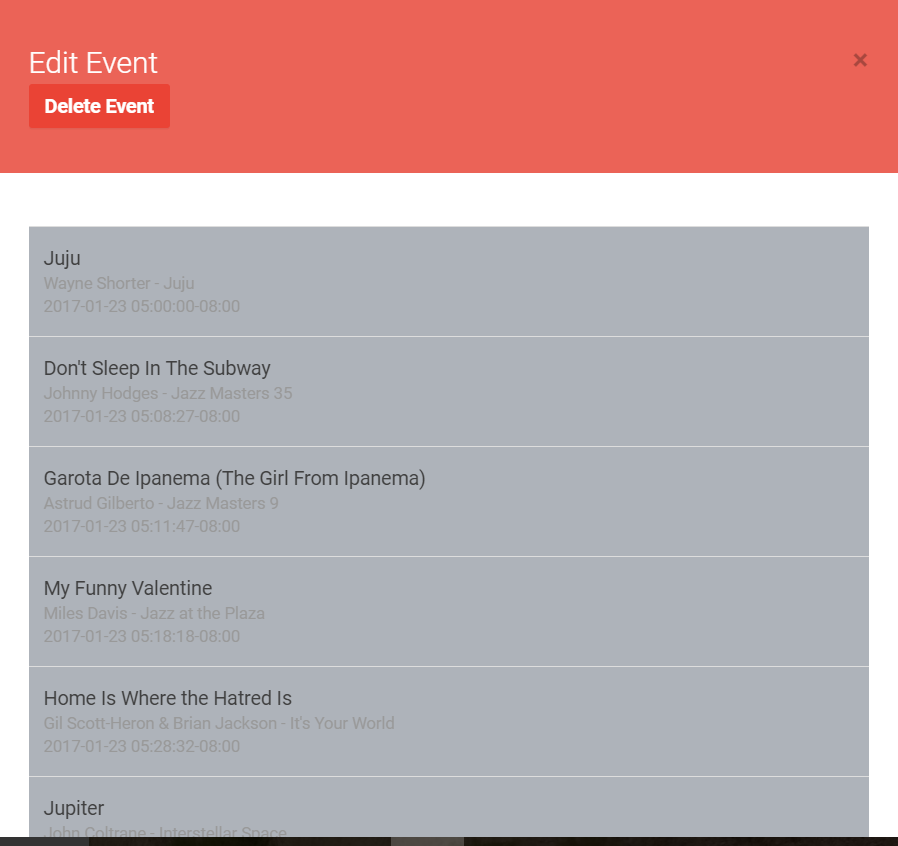 Then click Delete Event
Sharing Your Station
When you activate your playlists as events the stream of your station should launch within minutes.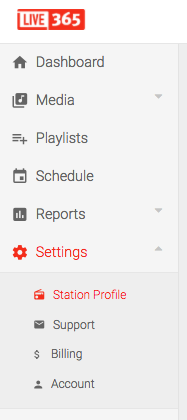 You can then go to the SETTINGS section of the right side navigation and click on Station Profile.
There you will find all the information about your station from image, station name, description, your social media links for the player and LISTEN LINKS.
From here you can find direct listen links (Quick Link) that will play your station in most browsers directly. Listen links for any player platforms that require a PLS, M3U, or ASX file.
You'll also find your License Player as a direct link or as an embeddable option- just copy/paste the html code onto your site.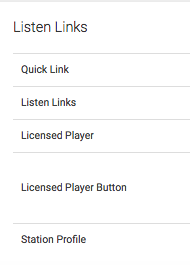 Finally you'll find your station on the Live365 directory / Station Profile/ Station Page