After getting started with your Facebook Ads Manager Account, you can now begin creating your first Facebook ad for your radio station. As we've discussed previously, Facebook ads can be a powerful way to promote your station as well as your social media. While we do not recommend that Facebook ads encompass your entire marketing strategy for your station or social media, Facebook ads can be an important part of your strategy. So, let's discuss how to create an ad!
Note that Facebook ads will typically serve on Facebook as well as Instagram, although you can indicate what placements you would like. Additionally, creating a Facebook ad is different than "boosting a post." While they do have similarities, Facebook ads allow for more customization than boosting posts. This customization may be less relevant to some folks, but we typically utilize and recommend Facebook ads as opposed to boosting posts to at least allow for the potential of further customization. Therefore, we will be discussing Facebook ads, not boosting posts.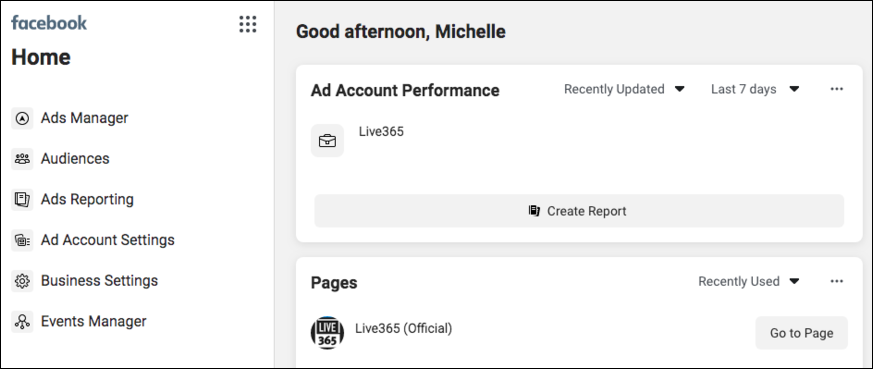 Typically, we would recommend creating your post for the ad prior to creating your ad. However, you are able to create your post while creating your ad if you decide that is a better option for you. In this tutorial, we will be creating the post before getting into the ad. We will indicate where you can create your post later in the process though.
Create the Post.
Open the Shortcuts menu (pictured below) and then select "Page Posts."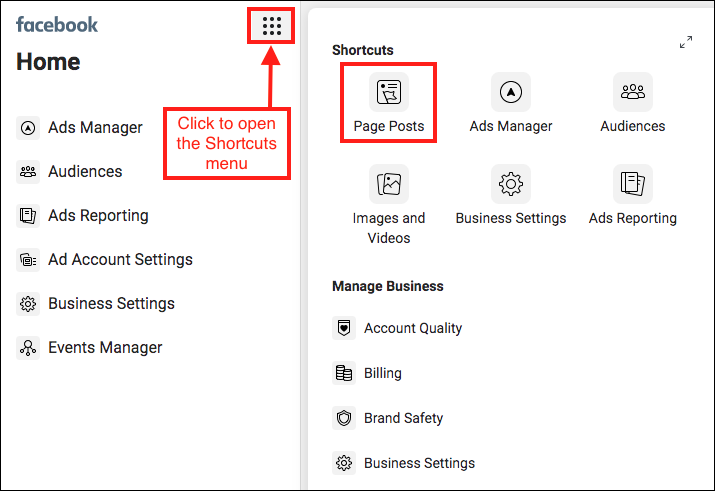 Once you're in the Page Posts area, select "Create Post" to create an unpublished page post. (Or, if your desired post is already published to your page, you can skip this step and begin with "Create a Campaign.")

The "Create Unpublished Page Post" window will open for you to create your post. In this example, we are using the most basic post possible. However, you can and should use a more creative post besides the link to your station and a short description. We strongly encourage you to get experimental with images and videos, including carousels, as well as text.
Fill in your URL and post text, select the proper call to action, and check the box for "Use this post for an ad. It will also be published to the Page later" to allow for the option to publish your post (that ran as an ad) at a later date. Leave the "Locations" section that drops down blank. Then, select "Create Post."
In this example, our call to action is "Listen Now" as our link is the station profile page. If your link is to a different page, for example a blog article, you might use "Learn More" for your call to action. Your call to action should relate to whatever your link is.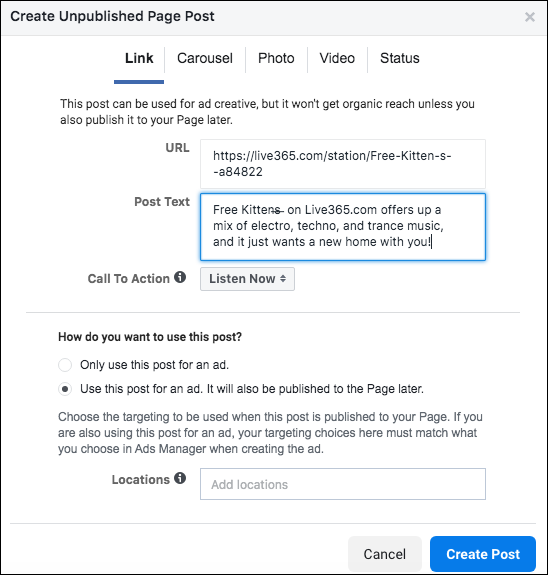 Note that text in your image does matter a lot. This includes images that you specifically use for your post or the image that populates from your link. Facebook strongly prefers ad images with little or no text. In fact, if Facebook determines that your image contains a high amount of text, they may not serve your ad at all. In this example, the image that Facebook pulls from our link is the station logo. If you link your station profile page and your logo contains a significant amount of text, this will be an issue and your ad may not serve. To check how much text is in your image and see how that will impact how Facebook serves your ad, use Facebook's Text Overlay Tool.
After creating your post, you will need to refresh the page for your post to appear under the "Ads" tab.

You can preview your post by selecting the post. Note that the ID number listed can be used later in the process (See "Create the Ad" below.) to add your post to your actual ad.
Create a Campaign.
Once your post is created, you can then create your ad. To do so, open the Shortcuts menu again (pictured below) and select "Ads Manager."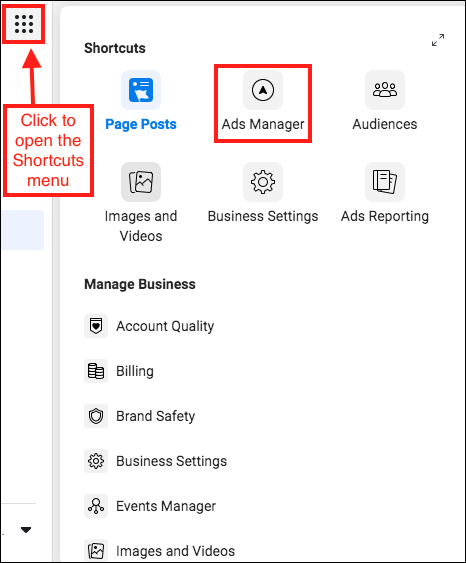 You will be directed to the Ads Manager, where you'll be able to view as well as create campaigns, ad sets, ads. To create your ad, select the green "Create" button.
To begin, under the "Create New Campaign" tab, you will be prompted to select your objective. (Leave the "Special Ad Category" box unchecked as it does not apply.) In this example, we are using "Engagement" because we want to reach people more likely to engage with our post. In addition to getting more engagement on our post, since we are linking the station profile page, there's also a better opportunity for more people to tune into the station we're advertising. In other instances, you might find a different objective useful for you. For info on other objectives, see Facebook's help article here.
Note that after you create a campaign, if you want a future ad to be included in this campaign you've already created, you will be able to do so by selecting the "Use Existing Campaign" tab instead of the "Create New Campaign" tab.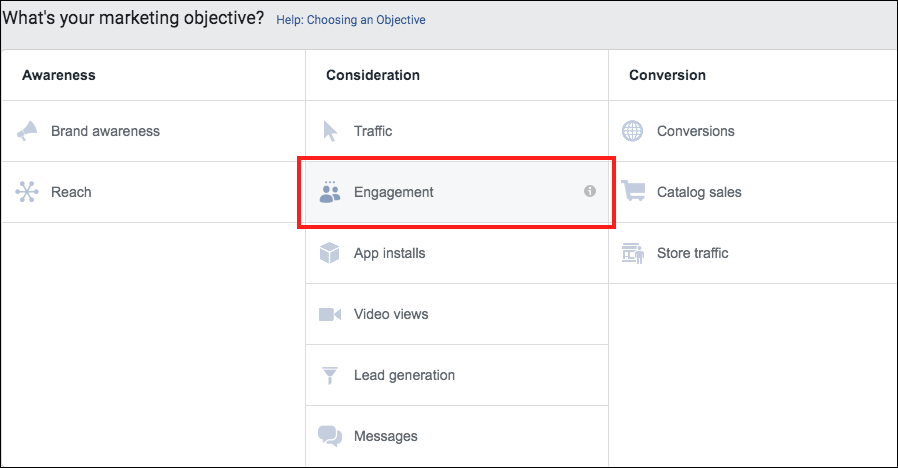 You will then be prompted to name your campaign. We suggest creating some naming guidelines to keep your account organized, especially if you plan to advertise regularly. In the example, the naming convention is as follows: initials of who created the campaign - 1 (this is the first campaign of this nature) - description of the campaign for identification
How you would like to name your campaigns, ad sets, and ads is totally up to you and is dependent on your individual circumstances. However, we do recommend that you find a naming convention that suits your needs.
In our example, since we are looking for post engagement, we are keeping that selected and we're leaving "Create A/B Test" and "Campaign Budget Optimization" off as those don't apply to the ad we're creating. Once completed, click the "Continue" button.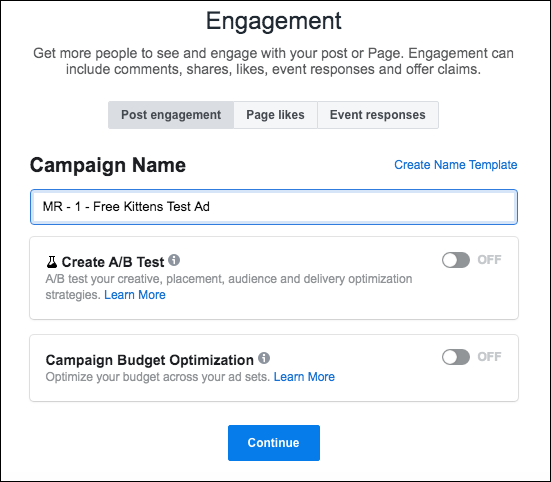 Create the Ad Set.
Firstly, we continue with our naming convention as mentioned, but in this case, for the ad set, we add the following to the end once we know what our audience is going to be: - audience description
For the audience, use the "Create New Audience" tab. In the future, you may choose to save audiences to use again. In this instance, you would use the "Use Saved Audience" tab. Additionally, in the future, you might be able to create a custom or lookalike audience from data you've gotten from your website or mailing list, for example. In this example, we'll be skipping the Custom Audiences field.
For Locations, enter "United States," "Canada," and "United Kingdom" as these locations are where Live365 listening is available due to the music licensing we provide.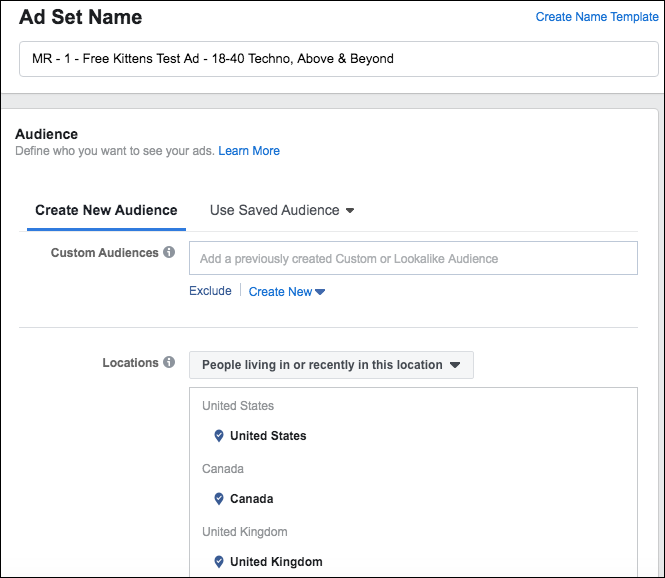 For Age, select the age range of your station's demographic. If you're unsure of the age range, research the listener age range of the genre(s) you play. In our example, the station plays electro, techno, and trance, so we are selecting 18-40 as the electronic music listener tends to be in the 18-35 range, according to a quick Google search.
As for Gender, in our example, we want our ad to serve to all genders.
As for Detailed Targeting, this is where you would enter any interests and other demographic information. Here, you can enter genre(s), artists, activities, job titles, behaviors, demographics (ie. Parents with adult children), relationship statuses, etc. This is a great place to get creative and really think about who your audience is. Utilizing the "Suggestions" or "Browse" options might be helpful in prompting creativity. Outside of the most obvious interests, like the genres and artists, think about what else your audience enjoys and who they are generally. While this is a great place to get creative, be sure that you don't enter in any items that are clearly totally unrelated to your station. For example, if you are a Top 40 station, it wouldn't be very helpful to add "heavy metal music" as an interest. In fact, it could be detrimental to your ad.
In our example, we are selecting the genres and artists that the station plays as well as the "Remix" interest. You can add as many items as you would like. Generally speaking, 6-15 detailed targeting items should be sufficient. Note that Facebook curates the interests and demographics that are available here, so some items that you want to include may not be available.
After you've added all of your items, check the box for "Detailed Targeting Expansion."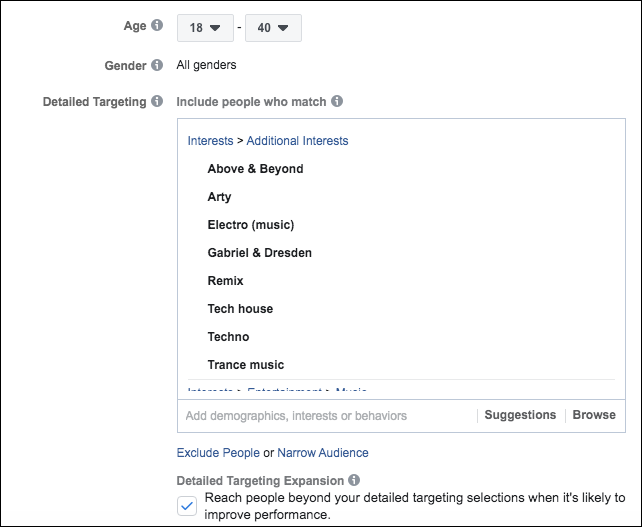 Facebook will automatically use the language that is most common in the locations you've selected, so adding "English (All)" under Languages isn't necessary, but in this example, we are adding it anyway. Leave Connections as the default "All People."
As mentioned, you can save audiences for future use. To do so, you would select "Save This Audience."
As for Placements, leave "Automatic Placements (Recommended)" selected unless you would like to specifically choose where your ad will be served.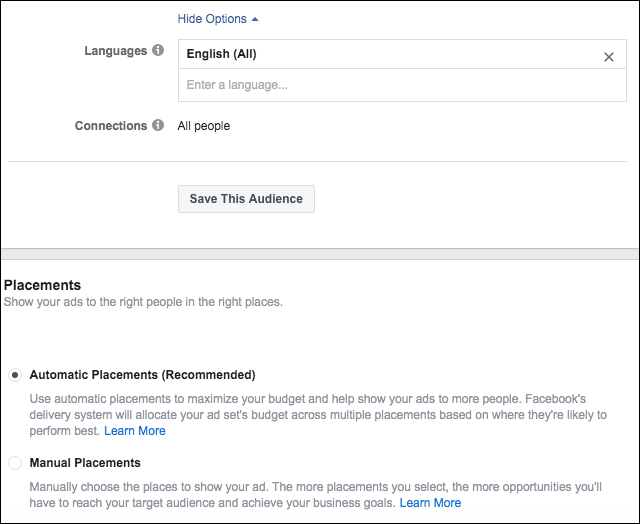 Under the Budget & Schedule section, you will need to indicate how much money you'd like to spend as well as for how long. You can set a daily budget or a lifetime budget. Additionally, you can have your ad run continuously until you manually go into Ads Manager and shut it off or have it run for a specific duration with a start and end date and time.
In our example, we are going to run the ad for 7 days with a lifetime budget of $7. Note that a lifetime budget must allow for at least $1 per day and a daily budget must be $1 or more, otherwise Facebook will indicate that there is an error (see the error message below).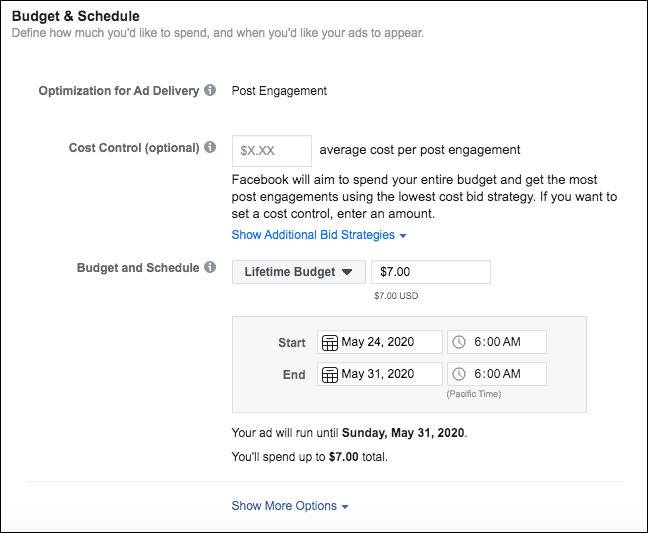 Leave the other options under the Budget & Schedule section as is and select "Continue."

Note that if Facebook determines there is an error somewhere, they will indicate that with the below messaging.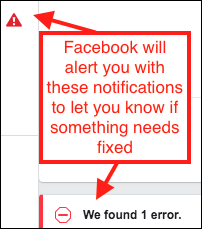 Create the Ad.
As we've done previously, we continue with our naming convention as mentioned. Our Ad Name is the same as our Campaign Name simply because we don't need any additional identifiers.
Your Facebook page should automatically be listed under Identity and if you have an Instagram account, click the dropdown to select your Instagram account for the ad to serve on.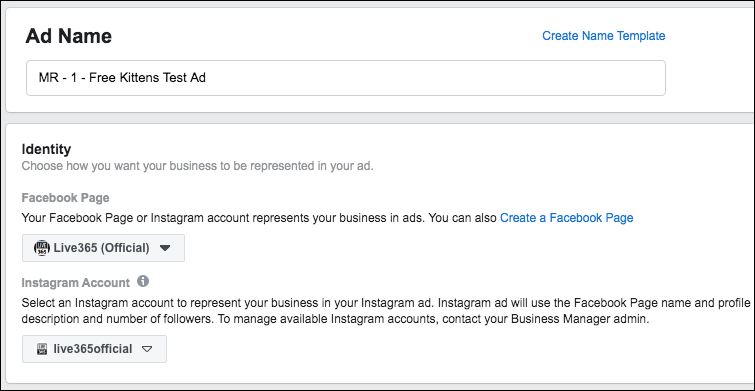 Under the "Use Existing Post" tab, select the post you previously created by entering in the ID number (See "Create the Post" above.) or clicking "Change Post" and selecting your post from the window that opens. After choosing your post, you can preview your ad in the various placements on the right.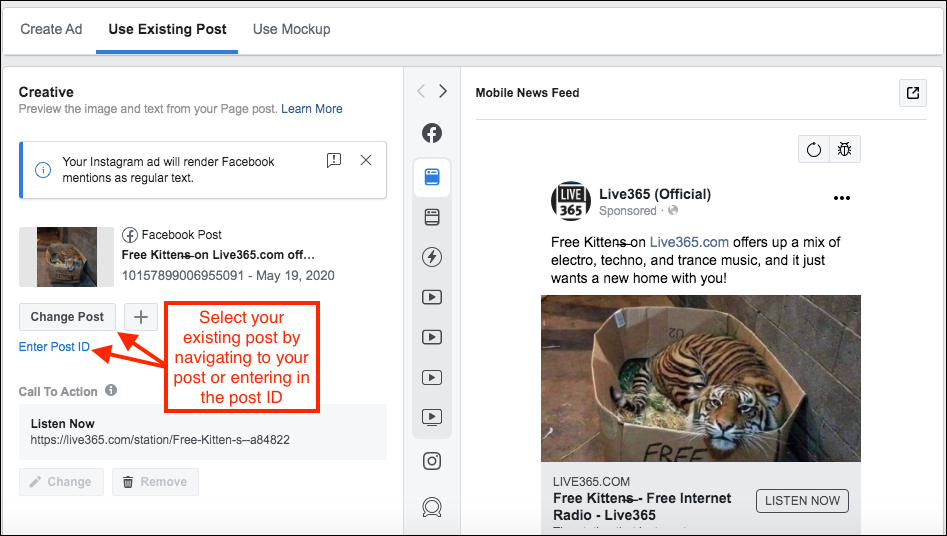 Here is where you would be able to create your post, if you haven't done so already. To do so, you would go to the "Create Ad" tab instead of the "Use Existing Post" tab. You can also use the "+" button next to the "Change Post" button to create a new post.
Confirm the Ad.
Tracking at the bottom of the page would not apply to you and should be off unless you have a Facebook pixel on your website.
After selecting your post, select "Review" if you'd like to review your ad first or "Confirm" if you'd like to publish it right away.

If you review your ad, a window will open summarizing everything you've entered. Ensure that all of the details are correct and your campaign, ad set, and ad are named according to your naming convention. Once done, select "Confirm" to publish your ad.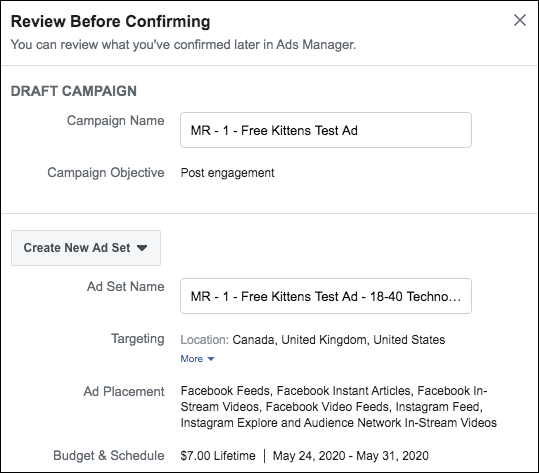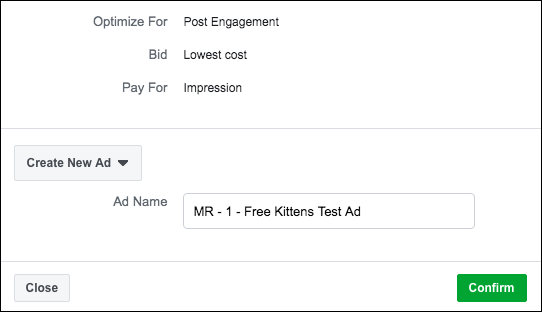 You may be taken to an additional draft page where you can review your ad and then publish it.
Your campaign, ad set, and ad will then appear in Ads Manager, and be listed as "In Review." Facebook will then review your ad and email you when the review is completed. They will either notify you that your ad is scheduled or running, or that your ad is not delivering. During the ad creation process, Facebook will prompt you if there is an error or something is missing. However, your ad may not deliver if Facebook determines that there is a problem, most commonly that there is too much text in the image in your ad.
After the review is complete, your campaign, ad set, and ad will go through the following delivery statuses: "Scheduled" (if applicable), "Learning," "Active," and "Completed." Note that after your ad begins "Learning," Facebook may email you notifying you that your ad could be performing better. This message is typically due to the amount of text in the image in your ad.
Once your ad enters into the "Active" status, your ad will serve for the duration you set in the process. Once that duration ends or you go in and shut off your ad (by clicking the blue button next to "Delivery" in Ads Manager), it will appear as "Completed."
And there you have it, you've created your first Facebook ad!
One thing to note is that the Facebook algorithm typically favors posts that receive a lot of engagement. This means that if a post gets a lot of engagement, it's more likely that even more people will see it. After your ad runs for the duration you've set, if your post is an unpublished one (as it is in the above example), you might consider publishing that post to your page to extend your reach. Since it is likely that your post got some engagement since it ran as an ad, publishing that post to your page may be useful as it may appear at the top of your followers' News Feeds (whereas other posts that you've published may be buried in their News Feeds). To publish your post, you would simply go to Business Manager->Page Posts->Ads, select your post, and use the dropdown "Actions" menu to publish or schedule it.
If you still have any questions about the Facebook ad creation process, you can find Facebook's help center here.
Note: Creating Facebook ads can be a tricky process. Some ads perform well, while others do not. There are many contributing factors to how ads perform, so be mindful that it might take practice (and even some luck at times) to create highly successful ads.
See how many stations have joined the Radio Revolution at https://live365.com/listen. Keep up with the latest news by following us on Facebook (Live365 Official and Live365 Broadcasting) and Twitter (@Live365 and @Broadcaster365)!
Article Image: Pixabay via Pexels.