A listener may arrive at the Live365 directory and click on the "Holiday" genre hoping to find their new favorite Halloween station for the season. Guess what station they pick? You guessed it -- the one with the top-notch station logo.
It's not necessary to drop tons of money on a great logo -- in fact, you can even make one yourself or use a stock image! However, we want to emphasize that the best logos are clear, concise, and fit within the recommended sizing guidelines.
Logo Guidelines
You can use any standard image type (.jpg, .png, etc.) with Live365. Want your image to be animated? You can now use a .gif file!
The recommended size for a station logo is a square 300 pixel by 300 pixel image. It's possible to use another shape such as a rectangle, but it is likely that some distortion may occur, especially when viewed in the directory.

Updating Your Logo
Whether you want to update your logo just for fun or to take full advantage of directory visibility, you can do so by logging into your account. Select Settings and then Station Profile from the navigation bar on the left. You'll see an orange "Upload Logo" button. Once you click on it, a window will open from which you can choose a custom file from your computer. Again, we recommend 300 pixels by 300 pixels.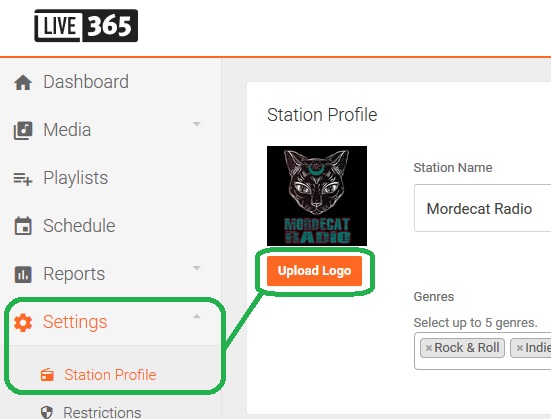 For more Halloween-related news and events, as well as tips and tricks for running a Halloween themed station, check out the
Halloween section of our blog
. Happy hauntings... er, we mean happy broadcasting!
See how many stations have joined the Radio Revolution at https://live365.com/listen. Keep up with the latest news by following us on Facebook (Live365 Official and Live365 Broadcasting) and Twitter (@Live365 and @Broadcaster365)!
Article Image: rawpixel via Unsplash.