Back during the summer of 2022, CREEM magazine resurrected with a website and weekly newsletter. They put out quarterly prints for the fall and winter, and now, the unapologetically funny rock 'n' roll publication is ready to pour out its first release of 2023.
The company has shared the cover and contents of its third issue (Spring 2023), with a release date set for March 15. The raunchy cover features original artwork from L.A. graphic artist and musician Iphigenia (Foie Graphics). According to a press release received by Live365, "her work explores power and perversion through a subversive and humorous lens, so in illustrating the Spring 2023 cover for CREEM, she naturally took aim at portions of the publication's 'yikes did we really say that?!?' seventies-era."
On the artwork, Iphigenia said, "With the cover I wanted to pull together a funny way of saying, 'We've made a mistake' with respect to some of the things done in the past."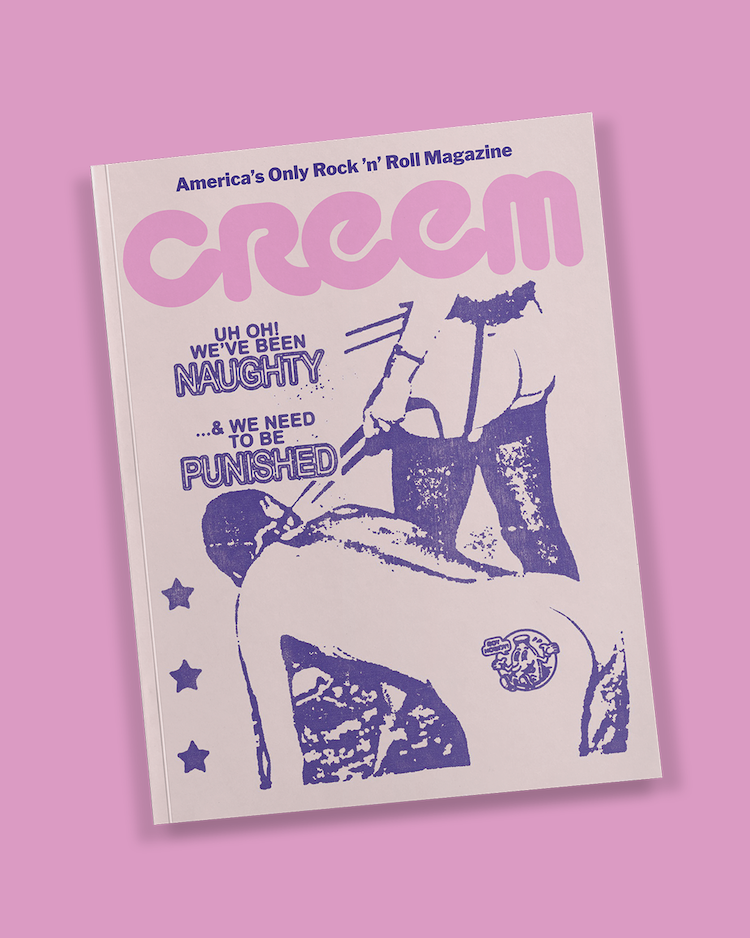 Courtesy of CREEM
As for the contents of CREEM's new March 15 issue, there will be features on Weyes Blood, Katy Kirby, and Poison Ruïn, as well as Smashing Pumpkins' Billy Corgan, "How to party your way into signing Metallica," the return of Botch, a CREEM history of Britpop, and Tom Waits. Readers can currently preview a full article from the issue around Peter Frampton and his final tour after being stricken with a rare degenerative muscular disease. (Frampton sat for his first photoshoot with the magazine in more than 40 years.) You can read that article here.
Revised CREEM columns Stars Cars (Ty Segall), CREEM Dreem (Hurray for the Riff Raff), Eleganza ("Clowncore" music and fashion), and CREEM Comix will also return with the next issue of the magazine. Subscribers and those who sign up by February 15 will be mailed the Spring 2023 issue, also available on CREEM's website along with the entire magazine's archive. New subscribers will also receive a free Boy Howdy! t-shirt while supplies last.
Founded in Detroit during 1969, CREEM grew from being an underground paper to an essential source of music journalism for twenty years. The original publication reflected and cultivated legendary writing talent of the era, such as Lester Bangs, Cameron Crowe, Patti Smith, Robert Christgau, and Jaan Uhelszki. CREEM earned a reputation throughout the 1970s and 80s for helping promote local rock artists like the Stooges, MC5, and Alice Cooper.
The revival of the magazine is now spearheaded by former VICE publisher John Martin as CEO, alongside Chairman JJ Kramer (son of original CREEM co-founder & publisher Barry Kramer). The new CREEM has featured fresh takes on classic stories from The Who, Terry Allen, and a Creedence Clearwater Revival CIA scandal. It's also championed up-and-coming artists like Special Interest and KeiyaA, as well as explored in-depth pieces from the last days with David Berman to billionaire CEOs like the Winklevoss twins "purchasing" rock-star status and beyond.
See the first three covers of the new CREEM magazine below.


From left to right: CREEM's Spring 2023 issue, the Fall 2022 issue, and the Winter 2022 issue. (Courtesy of CREEM)
Check out our selection of free stations streaming rock music at Live365.com.
Rather listen on our app? Download the Live365 app on iOS or Android. Ready to start your own station? Contact one of our Product Consultants or visit our website today. Keep up with the latest news by following us on Facebook (Live365 (Official) and Live365 Broadcasting) and Twitter (@Live365 and @Broadcast365)!
Article Image: The upper portion of CREEM magazine's Spring 2023 cover. (Courtesy of Shannon Cosgrove & CREEM)