Big news: Live365 now has its own encoder!
Currently in the beta stage, the Live365 Encoder is the newest addition to Live365's offering. The Live365 Encoder is a free desktop application that you download and run on your desktop or laptop computer in order to send a live audio feed and metadata information to your Live365 station.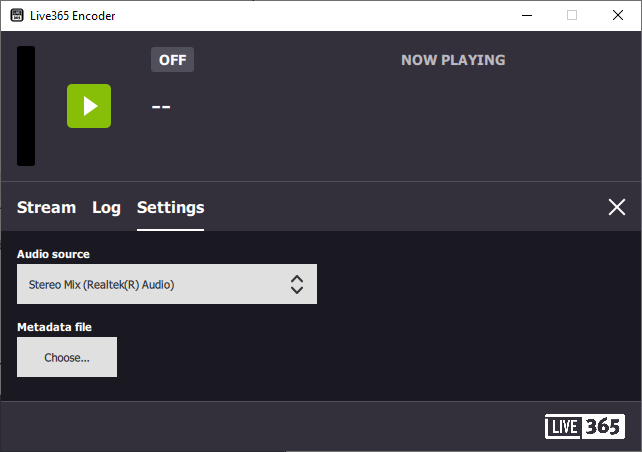 Previously, in order to utilize LiveDJ mode on Live365, you had to run a third-party encoder. The Live365 Encoder was one of our most highly-requested features and we're proud to present the application to the Live365 Broadcaster Community!
Note that the Live365 Encoder is currently in beta, meaning we still need feedback from you, the user! One aspect that we are currently working on with the macOS version is a pesky "permissions" issue. We're aware of some problems with audio source processing which can cause the application to not work as expected. You can read more about the features and what's coming next with the application on our Updates page.
With this release, our Support team is standing by to collect feedback from our Broadcaster Community. To submit feedback, join the discussion in the community forum thread or simply send an email to help@live365.com. Just be sure to include your operating system version, details about your automation system configuration, and any useful screenshots so our team can relay feedback to the software developers more quickly.
The Live365 Encoder is free to download and compatible with Windows and macOS-based systems. See our help article entitled Using the Live365 Encoder to download and learn more about the encoder.
Ready to start your own station? Contact one of our Product Consultants or visit our website today.
Keep up with the latest news by following us on Facebook (Live365 (Official) and Live365 Broadcasting) and Twitter (@Live365 and @Broadcast365)!
Article Image: "News" and the Live365 logo on a dark blue background with a mic pictured.