February 7 marks the day Live365's first 8 paid webcasters were launched onto the "new" platform in 2017. At that time, I had no idea about the amazing journey ahead and the people I would meet. I had one goal as a scrappy startup: create a platform for webcasters to create radio stations legally while relaunching the historic Live365.
Over the past 5 years, our company has grown significantly. A few days ago, we reached team member number 50 of our distributed workforce, embracing remote work long before the COVID-19 pandemic. While thinking about the last five years, a few particular themes come to my mind:
Gratefulness - I am truly grateful for our team and community. There's something really special about Live365 and the audio community as a whole.
Relentless - As a team, we have accomplished a lot in such a short period of time, through all of the ups and downs.
Processes - As part of scaling our team, many defined processes were needed. In the early days, it was rather easy to "just do something," such as shipping code into production the same day, or resolving a customer's ticket instantaneously while talking to a developer. But as the number of team members grew, processes were key to our success as an organization.
Structure - Growing a team to 50 is a tough challenge while ensuring everyone is aligned. At 5 people, you can discuss every detail and everyone is on the same page. But at 50, you need to rethink your communication strategy, making sure meetings are properly structured and the right people are in those meetings.
Live365's History
Live365 started in 1999 as one of the first internet radio companies in the U.S., offering easy-to-use tools and services to broadcasters and thousands of diverse music and talk stations to listeners around the world. At its peak, Live365 served 50,000 online radio stations, with around $120 million in funding during its first iteration. In 2016, following changes in the U.S. licensing laws, the original Live365, Inc. filed for bankruptcy.
With a dedication to radio since 2004 and as a Live365 broadcaster since 2007, I saw an opportunity in front of me. At the time, I ran EmpireStreaming.com - our sister company that focuses on enterprise radio stations and podcasts - and had the tools needed to relaunch the platform. Passionate about internet radio and what Live365 meant to so many, I connected with a few key people from the initial team that year and relaunched Live365 officially to the public on May 1, 2017.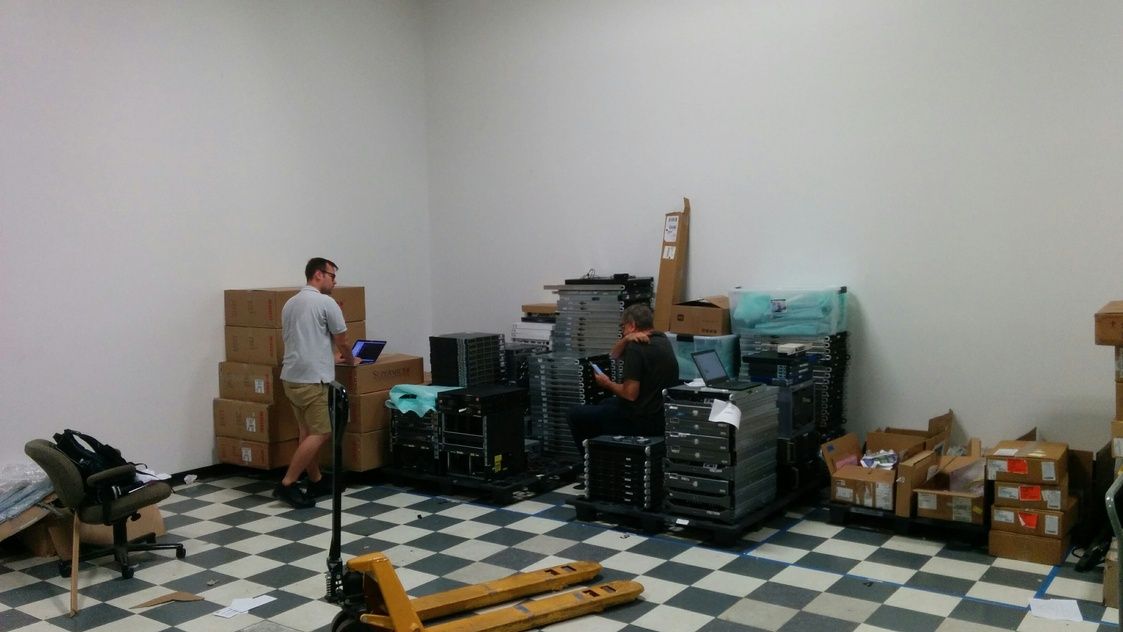 Pictured: Servers from the original Live365.com acquisition. Many servers were very old, including running Live365's original "Nanocaster," one of the first streaming servers developed based on the ICY protocol.

Pictured: The original sketch of Live365's first dashboard.
Looking Back 2017 to Now
Much has changed since Live365's first transmissions in February 2017. In 2017, Live365 consisted of 5 people working via Zoom, before Zoom became a common term. From 8 webcasters to nearly 4,000, Live365 has a lot to be proud of. Over that time, I've met many passionate people, from our beloved Live365 Broadcaster Community to our valued partners and ever-growing team. It's been an honor to help revitalize Live365 and bring this historic platform back to the passionate audio community. Throughout the last 5 years, we've rolled out a new Dashboard, Live365.com website, and a number of different features to the Live365 platform. We've also been able to expand on our package offerings, deliver on our community's most-requested feedback, and give back to the community through various events. And, today, with a focus on continuous improvement, we stay plugged in to this community, our partners, and where we can offer more value.
What's Ahead
We've focused the last few months on growing our team. This year (2022), we are concentrating on adding new features to the Live365 broadcasting platform and incorporating podcasts as part of our audio creator workflow. Even more, our parent company, Media Creek, has some pretty exciting advancements with our enterprise Platform-as-a-Service offerings around the creation, distribution, and monetization of audio content at scale. We can't wait to show the world what we're up to, and it's right around the corner.
Top 5 Learning Lessons Over the Past 5 Years
Hiring: Focus on hiring the right talent, even if that means waiting to fill a position. A CEO's number one job should be ensuring you have the right team, in the right positions, given the stage of the company. The rest will follow.
Foundation: Build a solid foundation from day one - if you cut too many corners early on to rush something to market, you'll pay for it even heavier years later (e.g. taking longer to implement new features that should be rather trivial).
Timelines: Things always take longer than anticipated. Always allocate "buffer" periods on deliverables. While it may seem realistic when planning, many other variables will come into play along the way.
Context Switching: To maximize the team's happiness and capabilities, focus on eliminating context switching. Meetings are great, Slack is great, but you should use them properly.
Have Fun: While missing a deadline or goal might seem bad, at the end of the day, we're not saving lives (at least with our company we aren't). Accountability is key, but don't take missing a deadline personally.
Here's to many more successful years together as we build and power the next generation of audio creators!
Cheers,
Jon Stephenson
CEO, Live365
Ready to start your own station? Contact one of our Product Consultants or visit our website today.
Discover thousands of free stations from every genre of music and talk at Live365.com. Keep up with the latest news by following us on Facebook (Live365 (Official) and Live365 Broadcasting) and Twitter (@Live365 and @Broadcast365)!
Article Image: "Celebrating 5 Years" and the Live365 logo on a dark blue background with a mic pictured.