Live365's "Featured Spotlight Station" this week is Radio Free Raleigh! We spoke with co-founder Mark Arsen about their setup, what listeners can expect to hear, and the station's favorite songs. Check out the interview below!
What brought you to Live365?
I had another streaming radio station on the original Live365 from 2010 to 2016, and for awhile I was managing two separate stations from 2012 to 2014, one of which was "Radio Free Raleigh." Former WRDU 106.1FM DJ Bob "the Blade" Robinson and I originally launched Radio Free Raleigh on Nov. 12, 2012. When the "new" Live365 launched in early 2017, I was contacted to see if I would like to come back as a broadcaster. I had been planning on re-launching Radio Free Raleigh, so the timing was perfect.
What's your studio like?
Radio Free Raleigh is unique in that we are truly a virtual streaming radio station. We don't broadcast live, so our DJs, who all host weekly shows, work out of their own home or work studios and send their content to me for upload and playback. We have a DJ in Houston, we previously had a regular contributor in Dallas, my "studio" in Raleigh is usually through my Zoom handheld recorder/mic, and our "Homegrown" music host records his show from a terrestrial radio station studio where he works in Roxboro, N.C.
What can listeners expect when they tune in to your station?
Radio Free Raleigh plays a nifty selection of alternative rock, alt-country, classic rock, '80s new wave, and local indie music with a southern-fried twist. Our featured music and artists span the '70s to now with the core of our songs being centered around the late '80s and '90s.
What has been your favorite moment as a DJ/Station Manager so far?
I always love to see listener reviews on our social media where listeners describe how happy it made them hearing their favorite or "long lost classic" song on Radio Free Raleigh. We are also a station that pays homage to a legendary rock FM station that was on the air in our part of North Carolina for 22 years, WRDU106.1. The majority of our current DJs and those who have hosted a show or two for us in the past were, at one time, on-air talent for the former WRDU-FM that was known as "The Home of Rock 'n Roll."
Aside from that, we are really proud of the promotions we've planned in 2020. This year, we planned on Radio Free Raleigh branching out with more public events through sponsorships and/or participation.
We were supposed to take part in the Raleigh St. Patrick's Day Parade on March 14 and were providing two of our DJs to help announce the parade. North State Signs & Printing is our sponsor, so they even lettered our Jeep for the parade with our alternate logo "RFR365," which pays homage to the "RDU106.1" FM rock station while also utilizing Live365 branding. Sadly, that event was cancelled due to COVID-19. We had #OurOwnParade anyway that day, driving around in our Shamrockin' Green RFR365 Jeep and stopping by local businesses to show our support. See some photos from #OurOwnParade below.
We're also supposed to be hosting our first-ever 5-band #WeLoveLocal music showcase on June 12 at a local Raleigh venue, unless we have to postpone it because of the public lockdown. Our showcase has partnered again with the organizers of the huge Hopscotch Music Festival, which is held annually each September throughout downtown Raleigh, to help cross-promote each other.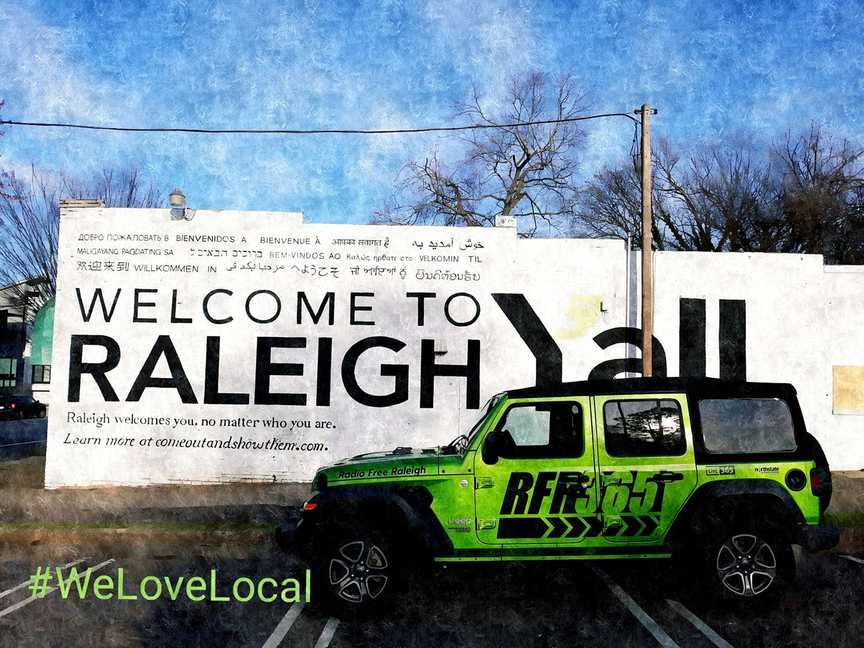 Radio Free Raleigh's Jeep with the alternate "RFR365" logo next to the "Welcome To Raleigh Y'all" wall painting in downtown Raleigh, N.C. - March 14, 2020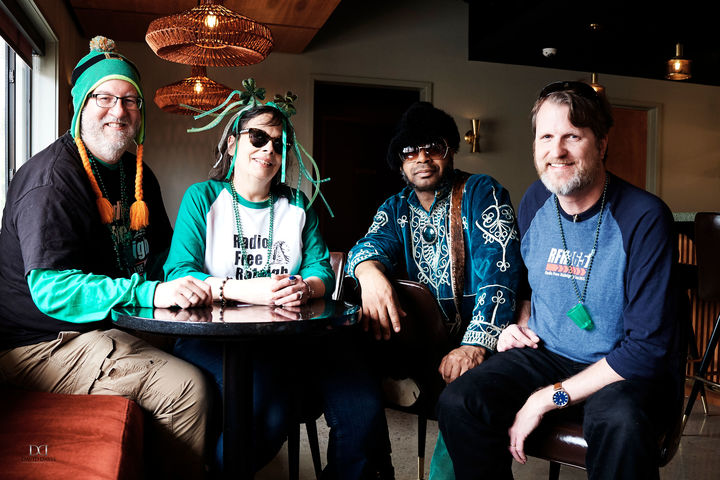 (L-R) Radio Free Raleigh's Kilbey and Liz, Daniel from the rock band The Veldt, and Mark Arsen at The Longleaf Hotel in Raleigh, N.C. - March 14, 2020
What is the best concert you've ever attended, and why?
My wife and I were lucky enough to see Guns 'N Roses (with Live opening) in Winston-Salem, N.C. in 2017 on their Not In This Lifetime Tour. Through a fortunate connection, we were able to make it down to the field to see the show up-close from maybe 20 rows back from the stage. It is my all-time favorite show because for it to have been such a huge venue, and considering the age and checkered past of the headliner, it was the best produced, best sounding rock concert I have ever seen. Song selection, connection with the audience, the whole deal. It was unforgettable.
What artist (dead or alive) would you love to see live, but haven't had the chance to see?
Well, a great artist who's no longer with us that would be a blast to see live (although that's really weird to think about), would be Jim Morrison of The Doors. Chris Cornell would be another although I was lucky enough to have seen Soundgarden once during the 1992 Lollopalooza in Raleigh. Sadly though, I never had a chance to see them play live again after that.
We asked for some of the station's favorite songs. Here's what they had to say!
Listen to Radio Free Raleigh on Live365.com, like them on Facebook, and follow them on Twitter and Instagram!
Live365 Broadcasters! Want the chance to be featured? Fill out the form at the following link: Featured Spotlight Submission Form. (Duplicate station entries will only be featured once. Must have a Live365 Broadcaster account.)