Now engage with listeners live on-the-go with the latest addition to the Live365 Broadcaster app: GoLive.
Following the release of the Live365 Broadcaster app – the mobile station management experience  – earlier this year, we're now rounding it out with live functionality!
Stream live talk from your mobile device directly to your Live365 station using the app. With GoLive (BETA feature), you are no longer confined to your studio. Take your audience with you wherever you go and keep them entertained on the move.
GoLive comes in handy for those more spontaneous moments, when you're connecting and making audio magic on-the-go.
What do we mean? Here are some example use cases:
Send real-time shout-outs to your listeners
Call out an upcoming event or show that will be playing on your station
Make real-time announcements to your listeners
Have an ad-hoc talk show or debate around a trending topic
Interview someone that you met in real-time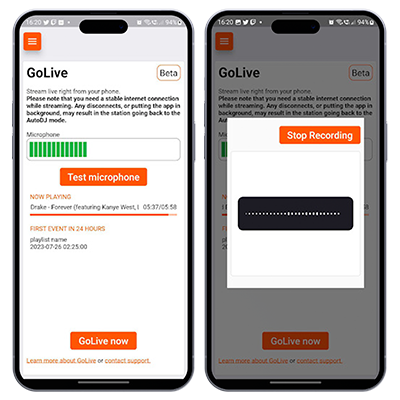 Note that the GoLive BETA feature is not currently optimized to broadcast copyrighted music from your mobile device as that would require accurate metadata for each individual music track being transmitted. This is a capability that we are looking forward to releasing in the future.
Have any questions, suggestions, or concerns? Email us.
Ready to start your own station? Contact one of our Product Consultants or visit our website today. Discover thousands of free stations from every genre of music and talk at Live365.com. Rather listen on our app? Download the Live365 app on iOS or Android. Keep up with the latest news by following us on Facebook (Live365 (Official) and Live365 Broadcasting) and Twitter (@Live365 and @Broadcast365)!
Article Image: Sitting on a park bench, a man has the GoLive feature open on his mobile device, preparing for an impromptu interview with someone in the park. On the left side, the image reads "GoLive with the Live365 Broadcaster App."