Earlier this week, Lady Gaga delivered pizza, fresh coffee, and gift cards to a Red Cross Evacuation Center in Los Angeles for people affected by the California wildfires. She spent more than an hour talking with evacuees and emergency workers.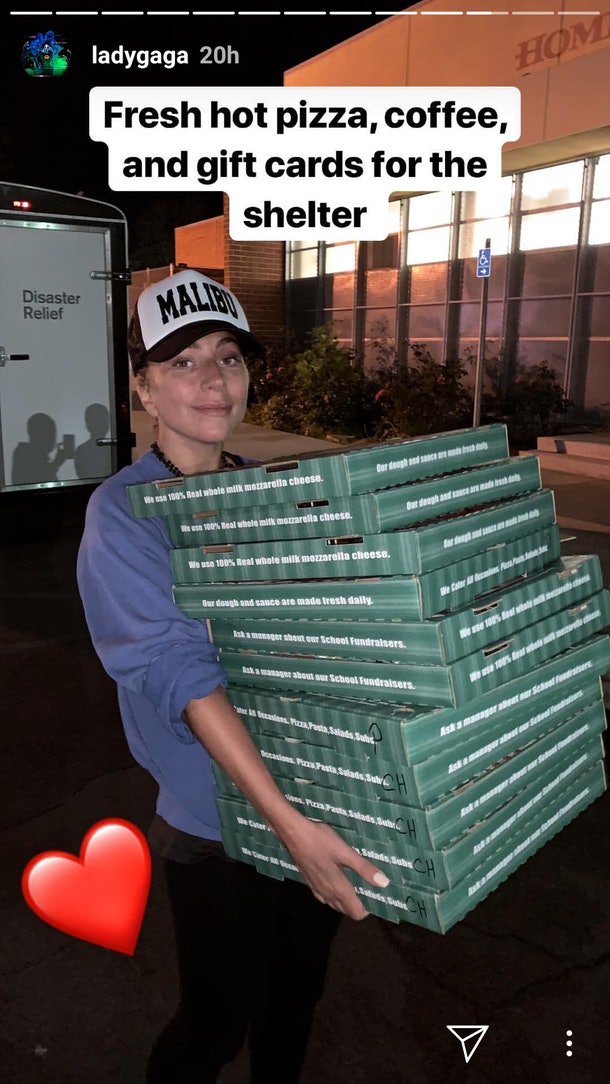 @LadyGaga via Instagram Stories.
In a video posted to Twitter, the singer said "Today is my favorite day of the year -- it's World Kindness Day. I encourage you all to do one act of kindess, even if it's for yourself."
Gaga later traveled to a Red Cross Shelter at Pacific Palisades High, and encouraged evacuees to take care of themselves, asking them to not "discount [their] mental health during this time." She spoke highly of the mental health workers at the shelter and urged evacuees to speak with them.
Earlier this month, Lady Gaga was forced to evacuate her Malibu home due to the Woolsey Fire.
Two massive wildfires have been causing horrific destruction in California for nearly a week and a half. CBS reports the following (as of Nov. 17, 2018 12 PM EST):
Camp Fire
Location: Butte County
146,000 acres burned
50 percent contained
71 fatalities confirmed
11,862 structures destroyed (including homes)
Woolsey Fire
Location: Los Angeles County, Ventura County
98,362 acres burned
78 percent contained
3 fatalities confirmed
713 structures destroyed, 57,000 in danger
If you'd like to help out, please look into The American Red Cross.
For all your music needs, head over to Live365.com for the best variety of radio stations around.
Keep up with the latest news by following us on Facebook (Live365 Official and Live365 Broadcasting) and Twitter (@Live365 and @Broadcaster365)!
Article image: Lady Gaga performing live at the Airbnb Open Spotlight concert in downtown Los Angeles, California, on Saturday, November 19, 2016. Justin Higuchi [CC BY 2.0 via Flickr.]