Live365 is now available as an app on Fire TV, Apple TV, Samsung TV, and Android TV! Tune in to your favorite stations via any major smart TV (including Roku TV). Listening has never been easier, and better yet, just in time for the holidays!
Search "Live365" within your TV's store or click below to download the app: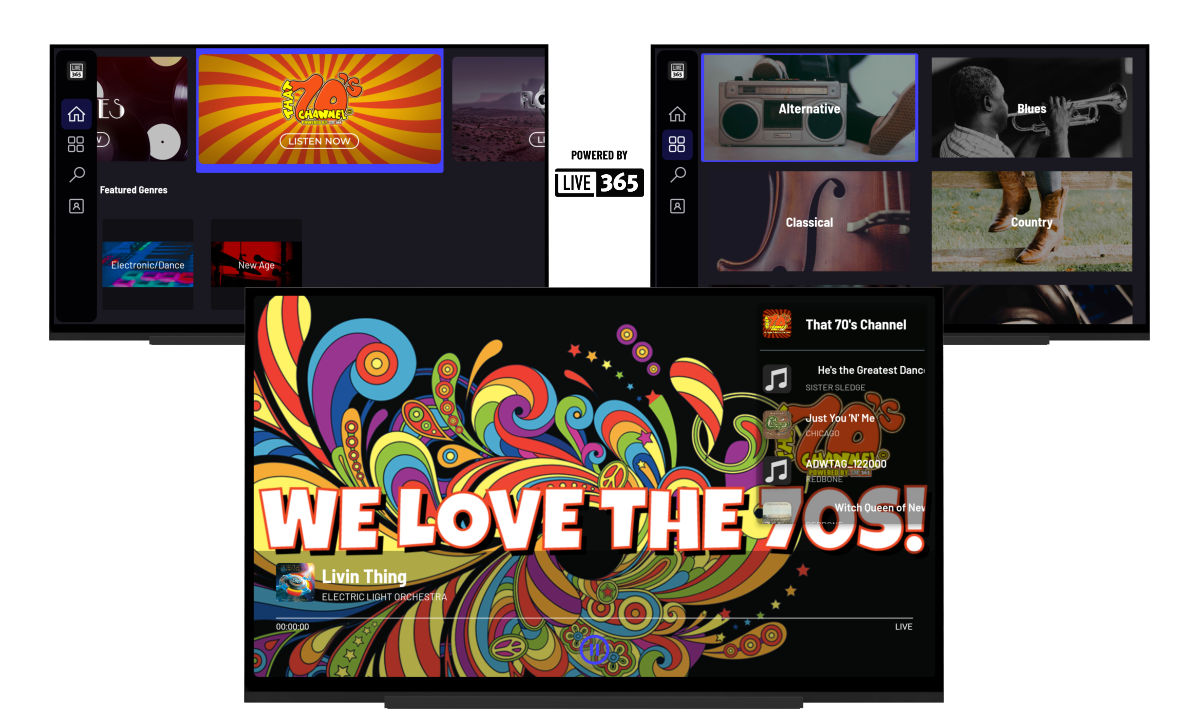 Using the app is pretty simple:
Search for stations: Navigate the Live365 directory to browse genres or featured content, or search for a specific station.

Tune in: Listen to your favorite station, view last played tracks, and more – all from your smart TV.
We're very excited and proud to expand the accessibility of Live365 stations to all major media streaming platforms, as we close out a year full of enhancing our distribution opportunities. As always, your valuable feedback has directly informed what features we bring to the Live365 offering. You can make feature suggestions at any time at feedback.live365.com.
Ready to start your own station? Contact one of our Product Consultants or visit our website today. Discover thousands of free stations from every genre of music and talk at Live365.com. Rather listen on our app? Download the Live365 app on iOS or Android. Keep up with the latest news by following us on Facebook (Live365 (Official) and Live365 Broadcasting) and Twitter (@Live365 and @Broadcast365)!
Article Image: The Live365 app displayed on a TV next to the Live365 logo and text "TV apps," with the Fire TV, Apple TV, Samsung TV, and Android TV logos below.