Live365 is happy to announce that we have partnered up with Benztown to offer Live365 broadcasters a special deal to access Benztown's powerful imaging libraries.
Benztown is a leading international radio imaging, production library, programming, jingles, and voiceover services company. Live365 broadcasters can now access Benztown's services and choose from 10 of their library formats, which include AC, CHR, Classic Hits, Country, Hot AC, News, Rhythmic, Rock, Urban, and Urban AC. Benztown provides you with the tools that you need to take your radio station production to the professional level.
All Live365 broadcasters now qualify for a subscription to one of Benztown's libraries for just $5 for 15 downloads/month. Broadcasters are also able to upgrade to the custom launch package for $250, which includes 1 page of copy, professionally voiced and fully produced.
To get in on the exclusive offer, Live365 broadcasters can either email support@live365.com or open a ticket.
Dave "Chachi" Denes, Benztown's President, said, "The teams at Live365 and Benztown are both passionate about helping broadcasters create a fantastic sounding product! We're thrilled about the partnership and look forward to working with the Live365 Broadcasters."
"Live365 is excited to begin this relationship with Benztown and to have the opportunity to offer their preeminent services to our broadcasters," said Live365's VP of Broadcasting, Jason Stoddard. "We are looking forward to growing this partnership and deepening the integration of Benztown's services into Live365 to further our goal of providing broadcasters with the ultimate arsenal of professional radio tools."
Check out the exclusive offer below.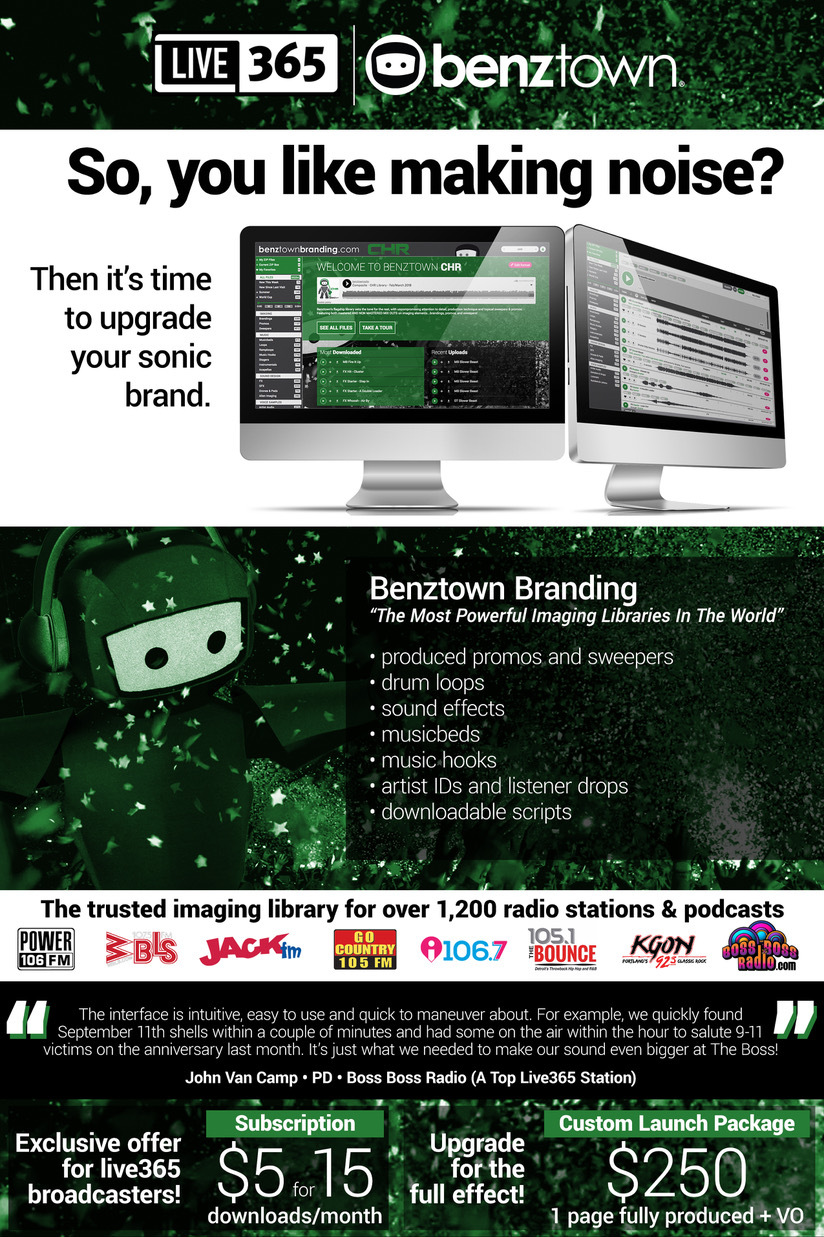 Questions? Comments? Let us know what you think on the Live365 Broadcasting Facebook Page.
Article image: Benztown logo and Live365 logo