The Live365 listen page got an upgrade!
The refreshed design and new navigation experience is all in the name of a faster and more user-friendly listening experience.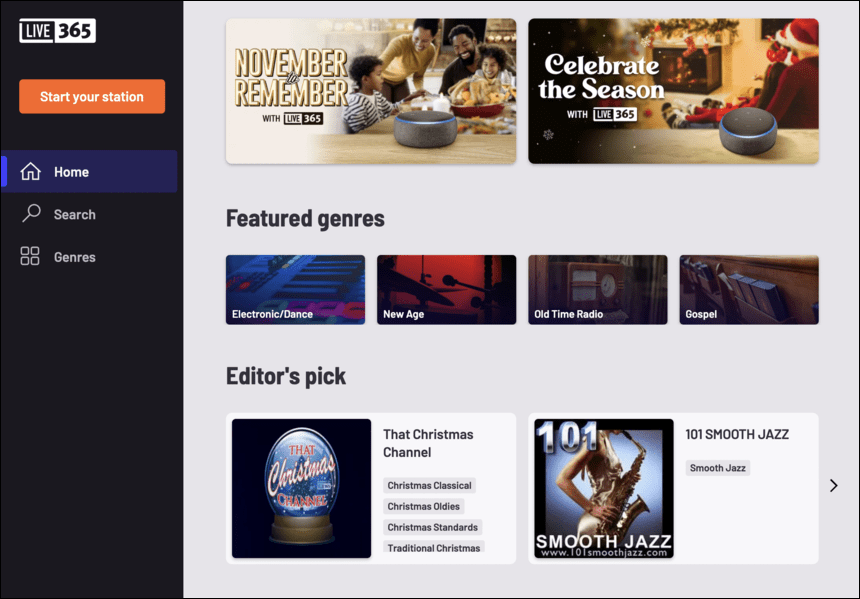 For Live365 broadcasters, the navigation should be familiar – it resembles the dashboard. Let's break it down:
Home - This is the main page of our directory, where you can browse featured content, trending genres, editor's pick, and top stations on Live365.
Search - Search through the 3000+ community stations, all updated in real-time as you type the station name.
Genres - Pick your favorite music genre or subgenre and get a list of stations to your taste.
Start your station - Ready to start your own station? Navigate to an overview of the services that we provide.
Live365 logo - Click to navigate back to live365.com.
Visit live365.com/listen to explore thousands of stations across hundreds of genres of diverse music and talk. We hope you enjoy the new look!
As always, your valuable feedback has directly informed what features we bring to the Live365 offering. You can make feature suggestions at any time at feedback.live365.com.
Ready to start your own station? Contact one of our Product Consultants or visit our website today. Rather listen on our app? Download the Live365 app on iOS or Android. Keep up with the latest news by following us on Facebook (Live365 (Official) and Live365 Broadcasting) and Twitter (@Live365 and @Broadcast365)!
Article Image: The Live365 logo with the text "Listening Experience" above someone with headphones on as they sit in front of a desktop computer with the Live365 listen page open.