Music? Check.
Microphone? Check.
Stream Licensing? … What's that?
If you heard a metaphorical (or literal) record scratch when you read the phrase 'stream licensing,' let us explain. A music streaming license is how broadcasters obtain permission to play other creators' materials. Radio stream licensing is crucial to ensuring that your radio station is legally allowed to broadcast copyrighted material such as music. Without it, you could be breaking the law.
In other words, if you want to stream music online, you'll need the proper permission to use the desired musical compositions—you may also require permission for various sound bites used on interactive audio streams, commercial streaming platforms, and even traditional radio! While streaming music licensing might seem tricky, we have you covered with this 101-level guide.
Main Takeaways:
Internet radio stations on commercial streaming services typically require a music streaming license to abide by federal copyright law.
There are several types of stream licensing, including sound recording, synchronization, public performance, and blanket licensing agreements.
Main performing rights organizations (PROs), such as Broadcast Music, Inc. (BMI), collect licensing fees and compensate the copyright owner.
Internet radio platforms can simplify obtaining and managing streaming licenses to avoid the consequences of copyright infringement.
Are Music Licenses Necessary for Online Radio Stations?
When determining whether you require a license for internet radio, the answer will rely on the type of content you plan to produce. Generally speaking, if you plan on playing music at any point during your radio stream—whether it's to present a full song, plug background music into an interview, or even play a short sound bite—music licensing is necessary to avoid copyright infringement.
It can be helpful to analyze various types of online radio stations and gauge how they use music to better understand when (or if!) music licensing is required:
Talk radio stations, including internet personality podcasts, faith-based radio shows, and news coverage radio channels that use background music, transitional sound bits, and commercial break music, must obtain the appropriate music licensing.
Sports radio stations, including collegiate sports talk, national sports franchise channels, and international sports coverage, will require licensing to use sound clips from previously recorded games or background and transitional music during interviews.
Music radio stations that plan to routinely live stream a collection of full-length songs or protected musical compositions, or play background music during talking segments, must obtain sound recording licensing for all streamed music.
In short, music licensing requirements are in place to protect the intellectual property rights and royalties of the original artist or copyright holder. However, they are also necessary to protect online radio stations from costly copyright infringement claims. To better understand how to acquire the correct music streaming license for your online radio station, just keep reading!
* Note that each country has its own laws and licensing agencies, so if you want to stream in other countries, you must be aware of and abide by those laws and seek out the appropriate licensing agencies before streaming any music.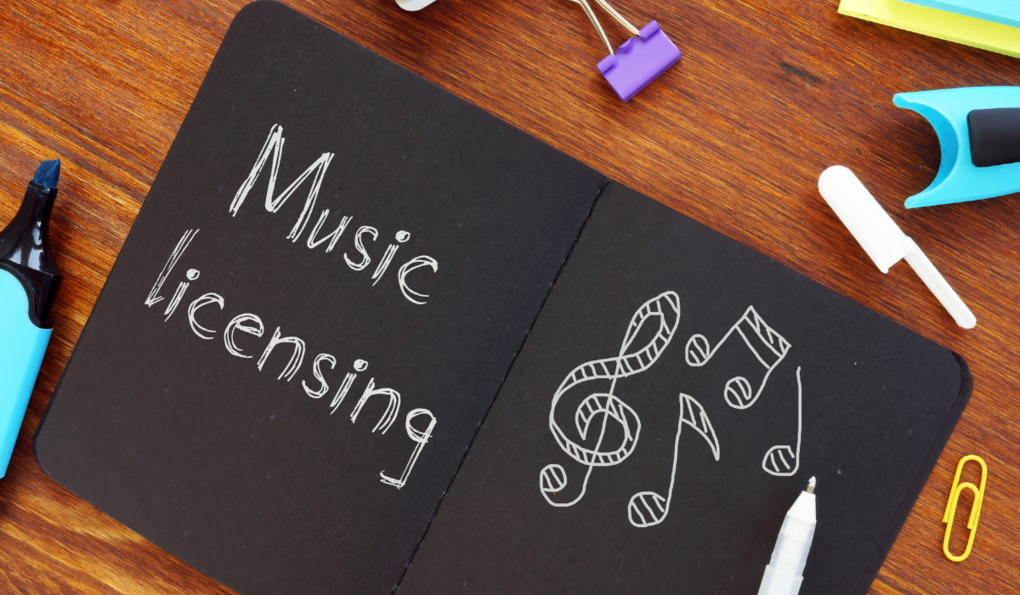 Types of Music Licensing
Not all types of music licensing will be discussed in this guide—that's because certain types, such as a mechanical license, only pertain to artists in the music industry who wish to sample copyrighted material in their compositions. However, just as there are multiple types of online radio stations, there are also numerous types of music licensing for disc jockeys and broadcasters to acquire.
While the idea of music licensing can be intimidating to those just getting started in the radio industry, rest assured that you do not need to become an expert in all licenses. Quality broadcast platforms can help simplify the music licensing process and protect you from unwanted copyright concerns. Below is a collection of the common types of music licensing you can expect to obtain.
Sound Recording License
Under federal regulations established by the Digital Performance Right in Sound Recordings Act and the Digital Millennium Copyright Act, radio stations that stream music digitally via the internet or satellite transmission must obtain a sound recording license from SoundExchange (more on this soon!). Sound recording licenses ensure that artists and copyright owners whose music is streamed on online radio stations are properly paid performance royalties through licensing fees.
Synchronization License
A synchronization license, also called a sync license, is a type of music license typically obtained by those who wish to pair a song with visual media, such as a YouTube video or TV commercial. However, there are certain instances when radio stations sync a song with a part of a broadcast production, which also sparks the need for a synchronization license. For example, you will require a sync license if you pair a song with an advertisement or your show's introduction.
Public Performance License
Though the name might sound like a type of music licensing for individuals who publicly perform copyrighted music, a public performance license is actually required by any sort of business establishment or digital media entity that broadcasts music in a public setting. Public performances can vary from nightclubs and sports venues that play music for customers to digital broadcasts like radio stations and TV shows that can be accessed and heard in public.
Blanket License
Whether you're a variety station or a genre-focused radio station, you may prefer the benefits that come with a blanket license. Blanket licenses allow stations to play all the music covered by the governing performance rights organization (PRO, we'll explain this next!). While individual licenses are more realistic for talk stations with minimal music, many music stations purchase blanket licenses from multiple PROs to expand their playable song library without worrying about copyright infringement.
Performance Rights Organizations (PROs)
The entities that legally license music are called performance rights organizations or PROs. There are four main music licensing agencies within the United States: ASCAP (American Society of Composers, Authors, and Publishers), BMI (Broadcast Music, Inc.), SESAC (Society of European Stage Authors and Composers), and SoundExchange.
These four organizations are responsible for collecting and distributing royalties any time a musical composition (the music as you'd see it on paper, including the lyrics and notes) is performed publicly in a business establishment (such as the mall or a restaurant) or on a broadcast (via TV, radio, or internet).
PROs then take those license fees and pay the appropriate composers, songwriters, and music publishers. If you plan on playing copyrighted music on your station, you'll need at least one of these PRO licenses.
ASCAP (American Society of Composers, Authors, and Publishers)
Established by industry leaders in 1914, the American Society of Composers, Authors, and Publishers (ASCAP) has grown to become a leading PRO in today's music industry. Representing over 900,000 publishers, composers, and songwriters, ASCAP licensing provides radio platforms access to the entire ASCAP catalog, along with the rights to stream music and include music in radio station commercials or jingles. Licensing types include the Radio Music License Committee Commercial Use Radio License and New Media License designed specifically for internet radio.
BMI (Broadcast Music, Inc.)
Broadcast Music, Inc. (BMI) was formed in 1939 after surging licensing rates prompted radio broadcasters to develop their own PRO. BMI is now the United States' largest PRO covering over 1.3 million songwriters and composers and providing radio channels with access to over 20.6 million songs covered under BMI protections. Through BMI, stations can either purchase a blanket license (which is designed for music-intensive radio stations) or a per-program license (which was created for talk stations using limited amounts of music).
SESAC (Society of European Stage Authors and Composers)
Originally formed in 1930 to help European playwrights and composers collect royalties from American performances, the Society of European Stage Authors and Composers (SESAC) now represents over 30,000 singer-songwriters, composers, and publishers in the U.S. Unlike ASCAP and BMI, SESAC's blanket licensing grants the rights to publicly perform and broadcast songs, making it the preferred licensing choice for venues like restaurants, clubs, and hotels. However, many radio stations often acquire licensing from all three PROs to gain full reign over their streaming abilities.
SoundExchange
The fourth main licensing agency, SoundExchange, is a bit different, as it collects and distributes digital performance royalties any time a recording is digitally transmitted in a public place, like on an internet radio station. These royalties are for what you actually hear. SoundExchange then pays the recording artists and musicians when their songs are played. In addition to one (or more) of the PROs above, you'll need to secure a license with SoundExchange to stream music on internet radio— it's the only PRO authorized by Congress to manage royalties for digital performances.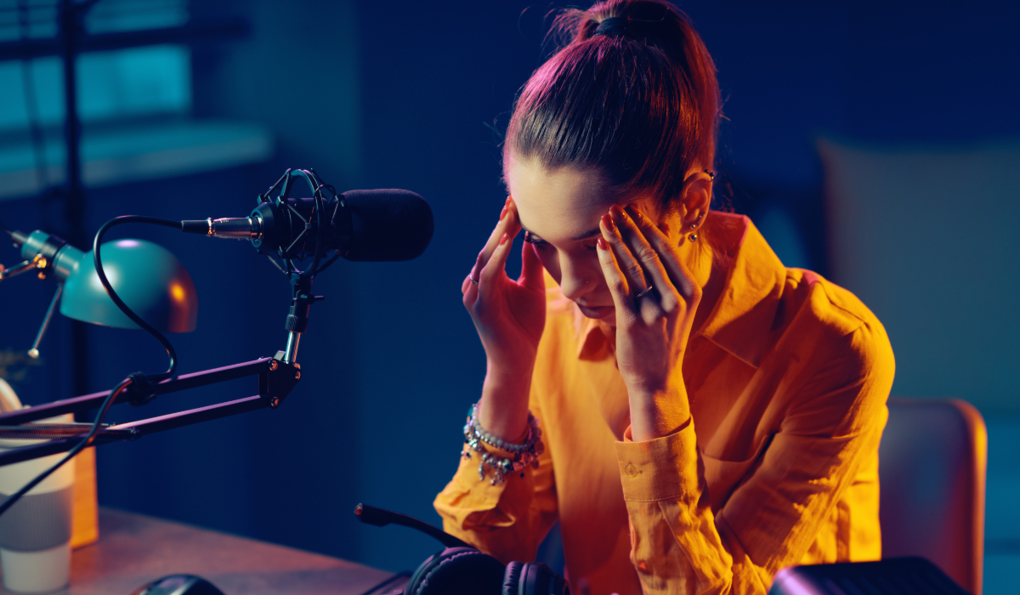 What Happens if You Don't Obtain a Music License?
Failing to obtain the correct music licensing before streaming music on your internet radio station can allow the proper copyright holders to take serious legal action against you. Under U.S. Copyright Infringement Laws, a radio station can incur a minimum of $750 and a maximum of $30,000 in fees and statutory damages (more on this below!) for each unlicensed song used during a broadcast.
Bear in mind that these copyright penalties are solely for playing music without the proper PRO licensing. In the event that a copyright holder takes legal action and the investigation also uncovers that your radio station willingly broke copyright laws and ignored infringement warnings issued by the performance rights organization, additional penalties of up to $150,000 can also occur.
Music Streaming License for Internet Radio Broadcasting
To legally broadcast most copyrighted material in the U.S., you'll need to secure a statutory license. Statutory licenses are the key to avoiding the statutory damages mentioned above. Statutory licenses cover non-interactive broadcasts, where playlists are curated by the station. All internet radio broadcasts are considered non-interactive because listeners do not actively select the music.
Fortunately, statutory licenses for internet radio broadcasting are no different from the music licenses from the PROs listed above—they are just another way of stating that your station gained explicit permission to broadcast certain tracks. However, internet radio broadcasters should seek out SoundExchange, which is specifically authorized to manage royalties for digital performances.
Manage Streaming Music Licenses the Easy Way with Live365
Managing agreements and reporting to all of those agencies can often be confusing and daunting, not to mention take up valuable resources and time. But, Live365 can help! We have a working relationship in place with ASCAP, BMI, SESAC, GMR, Word Collections, AllTrack, and SoundExchange in the U.S., SOCAN and Re:Sound in Canada, and PPL and PRS for Music in the U.K., so your station's stream licensing needs are covered!
All standard Live365 broadcast packages offer customers a one-stop service by providing hosting, broadcasting tools, and music licensing (for the U.S., Canada, and U.K.) all in one place! Interested in hosting a station with us? Get started today. Have questions? Contact us at sales@live365.com.
Disclaimer: This blog post is not intended as legal advice. Please consult with qualified professionals if you have specific questions about copyrights and licensing.
Music Streaming License FAQ
How much do music streaming licenses cost?
The final costs of music streaming licenses can be based on a variety of factors, including the type of licensing required, the specific organization issuing them, and the overall size, revenue, and amount of listeners a radio station has. Talk radio stations with minimal music may incur licensing costs as low as a few hundred dollars per year, whereas large-scale music stations that hold licenses with multiple PROs can pay upwards of a few thousand dollars per year for a wider playable song library.
Do I really need a streaming license for online radio?
Online radio stations should absolutely obtain the appropriate streaming licensing to avoid costly copyright infringement penalties that could result in legal repercussions for the broadcast. If an unlicensed station willingly streams copyright-protected music, the copyright holder can file legal action that can result in up to $30,000 in fees and statutory damages per each unlicensed song used.
Does an ASCAP license cover streaming?
Certain ASCAP licenses cover streaming. Though ASCAP licensing provides radio stations with the rights to stream music in the ASCAP catalog and include it in radio station commercials or jingles, only the ASCAP New Media License has been designed specifically for streaming on internet radio. By working with a provider like Live365, you can ensure all music streaming licenses are covered.
Discover thousands of free stations from every genre of music and talk at live365.com/listen. Keep up with the latest news by following us on Facebook (Live365 Official and Live365 Broadcasting) and Twitter (@Live365 and @Broadcaster365)!
Article Image: Mark Solarski via Unsplash.