If you're familiar with the themes of Billie Eilish's music and her recent upcycled Met Gala look, you know the young singer is partly a climate change activist. Eilish is taking her championship of eco-friendly activity to the next level with a new event called Overheated.
Overheated is a six-day climate seminar at London's O2 Arena, coinciding with Eilish's Happier Than Ever U.K. tour dates. Events will take place on June 10, 11, 12, 16, 25, and 26. Musicians, activists, and other experts in various climate fields will be in attendance for talks, panels, slow-fashion clothing swaps, and much more.
Additionally, there will be screenings of a documentary, also called Overheated. It will feature appearances from Eilish as well as Finneas, Vivienne Westwood, Yungblud, Girl in Red, Emily Eavis, and more. The documentary is commissioned by WePresent, the digital arts platform of WeTransfer. Besides the O2, the documentary will be screened at Cineworld on June 10.
Also on June 10, Eilish and Finneas will introduce a panel before a keynote from a mystery guest. Talks and workshops throughout the seminar will cover topics ranging from green music practice to sustainable fashion and diets. On June 16, there will also be a musical performance from Sigrid and Love Ssega.
Eilish announced the event in conjunction with the nonprofit Support + Feed and the green music movement Reverb. Profits from Overheated ticket sales will be donated to the two climate-conscious organizations. Pre-sale tickets for the event are currently available, with the general sale beginning on Friday (May 6). You can find more event and ticket information on imoverheated.com.
See the official poster for Overheated below.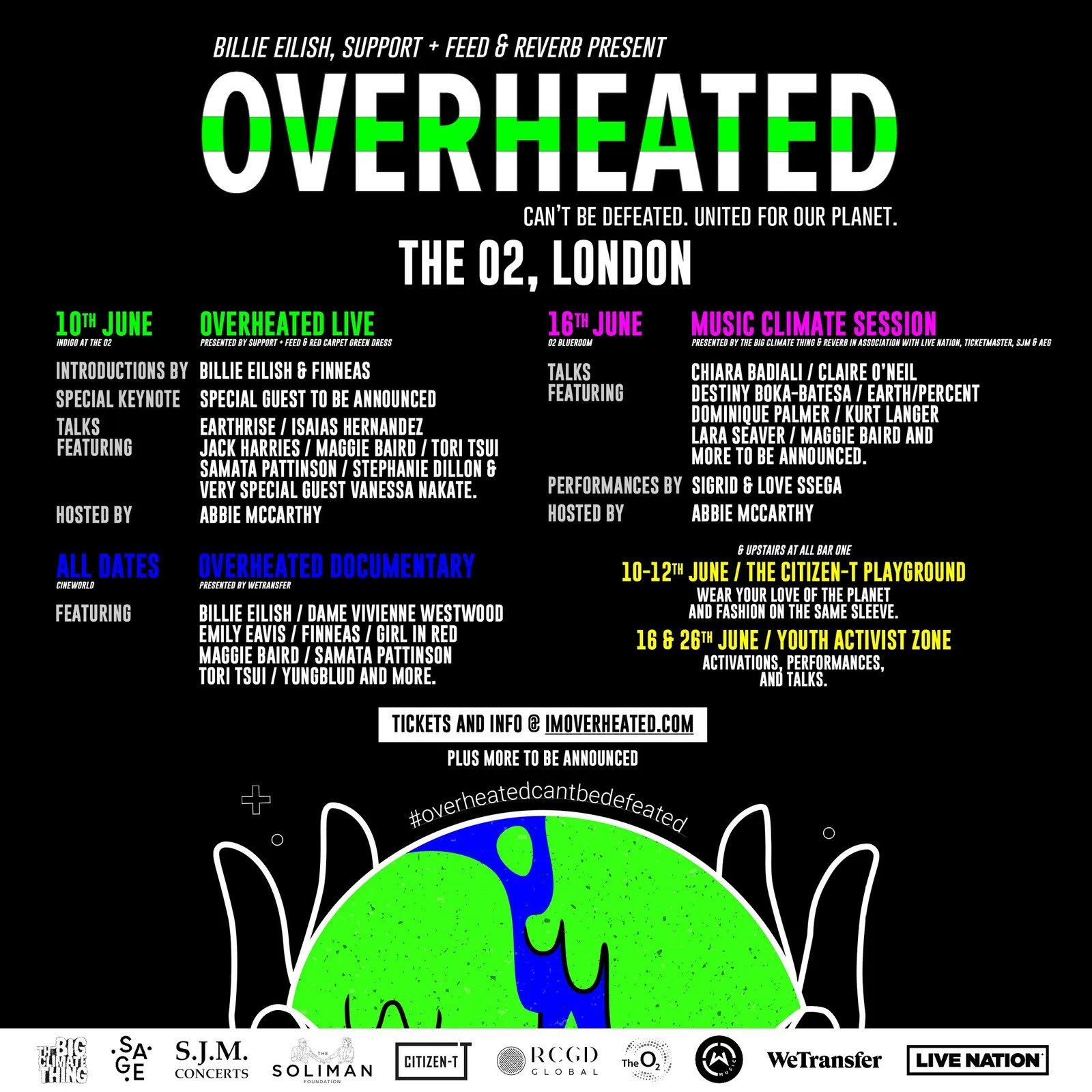 Check out our selection of free stations streaming Billie Eilish music at Live365.com.
Ready to start your own station? Contact one of our Product Consultants or visit our website today. Keep up with the latest news by following us on Facebook (Live365 (Official) and Live365 Broadcasting) and Twitter (@Live365 and @Broadcast365)!
Article Image: Billie Eilish wears a maroon coat and glances with a side-eyed expression while attending the Variety 2021 Music Hitmakers Brunch. (Jean_Nelson via DepositPhotos.)