For this month's Emerging Artist Interview, we have not one, but two special guests to introduce you to! Rappers Deeno and John Fifth have appeared on Live365's radar rather quickly. As soon as we listened to their sonically rich and personal collaborative album Bonia's Kitchen, we knew we had to talk to them about everything hip-hop and New York City-related.
Deeno's thought-provoking bars and John Fifth's lighthearted wit blend well together throughout Bonia's Kitchen. Just from listening to the pumped up "No Assist" or effortlessly cool "Power Glo Up," you can hear how their styles draw from classic hip-hop acts like Ol' Dirty Bastard, A Tribe Called Quest, Trick Daddy, Lord Finesse, Nas, and Andre 3000.
The pair have gone on to be featured several times on Revolt TV's Untapped with their recent tracks "Jada Pinks" and "Talkin Bout." Deeno and John Fifth have also been featured on a Cross Colours campaign, and were graced with a hosting by DJ EFN of Drink Champs on Bonia's Kitchen.
Without further ado...here's a conversation with Deeno and John Fifth we've cooked up for you!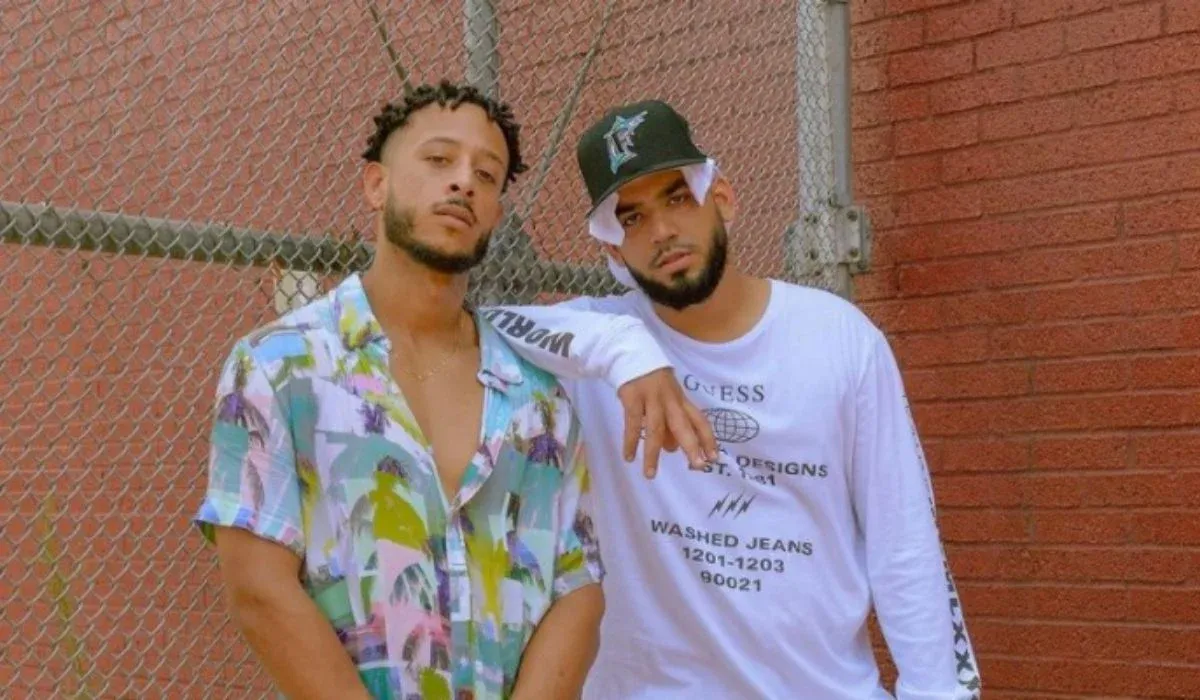 Tell us about yourselves. Where are you from and how did you get your start in music?
Deeno: I'm from the Bronx originally but I currently live in Miami, FL. As far as music, it's always been part of my surroundings. My mom would always have merengue, Salsa, and Bachata blasting in our apartment. I have three older brothers and they're the ones who really put me on to hip-hop at a young age. I can't recall a time where I didnt hear it around me. My brothers were big on Mobb Deep, DMX, Jay-Z, Nas, the legends.
John Fifth: I'm from Miami FL, born into a musical family. When I was younger my father would buy new instruments for our household instead of toys. Being a kid short of toys, I did what every kid does and used my imagination. I would start making up songs on the house piano for fun. I would bang the tambora or congas anytime I would pass them. I remember thinking as a kid that every house had a bunch of instruments and every family just made music, too.
How did you two meet?
Deeno: We both met through the love of graffiti really. I had known Fifth's sister through mutual friends. One day I had stopped by his crib and something came up and we started talking about tagging. From there the conversation switched to hip-hop. One thing led to another, and the rest is history. We been rocking ever since.
John Fifth: I met Deeno when I was fresh into high school. He was a friend of my older sister and she introduced us. We automatically got tight through the mutual love of graffiti, hip-hop, and weed lol. As time passed it turned from a friendship to brotherhood.
Let's talk about your latest album Bonia's Kitchen. What inspired the album, where did you record it, and how long did it take to complete?
Deeno: I recorded my vocals at my house in Miami and Fifth recorded his out in The Bronx in his. The inspiration comes from my grandma's (Bonia) house in highbridge. I was living there at a point in time and Fifth would always come over and we would freestyle chop it up in the kitchen lol. The apartment was real small and it turned into home base so we decided to name it Bonia's Kitchen. We released a mini documentary on it as well which is available on YouTube.
John Fifth: One summer, fate had it that me and Deeno both ended up in New York City with no plan of leaving back home to Miami. I was staying with my older brother and Deeno was at his grandmother "Bonia's" apartment. Bonia's kitchen became a home base for both of us because we really had no other place to just chill - me being new to the city and Deeno having had left for so many years. We started recording Bonia's Kitchen in bits and pieces, never thinking some of those songs would end up being part of a project like it is today. Time passed and Deeno ended up leaving back to Miami but the recording didn't stop. We would send each other songs with open verses and over time we captured the energy that the time in Bonia's kitchen gave us.
We love how certain tracks on Bonia's Kitchen sound uniquely New York in production - from old school-sounding beats to that "stand clear of the closing doors" subway announcement at the end of "Beach." Would you say the city had some influence on Bonia's Kitchen's creation?
Deeno: The city had a lot of influence in the whole theme and vibe of the album. It was a legendary time running around the city that year. A lot of great memories were made just wildin' out and making s--t happen. I feel like we embodied that vibe in the album.
John Fifth: New York City birthed Bonia's Kitchen as a project, and if your ever lucky to get into Bonia's kitchen you will realize that it is as New York Kitchen as a New York Kitchen can get. It's a special energy that New York carries, and what we've picked up from it definitely shined through in this project.
What was your favorite track to make on Bonia's Kitchen?
Deeno: I enjoyed making "It Is I" the most. I had laid the hook down and sent it to Fifth. He sent me back his verse in no time. It took me a while to do my verse cuz I couldn't think of anything to match his vibe. I just felt like it was so good I didn't want to risk ruining the track. I reverted back to the hook and wrote down whatever was on my mind at the time and it ironically became one of my favorite verses off the album.
John Fifth: My favorite track to create was definitely "Beach." It is a true story that I was writing a song about my death that night. It was at the beginning of the pandemic when New York City was on fire. The first epicenter of Covid in the U.S., so my mind was in the gutter. Everybody was dying it seemed, and so I started to think about what I would want my family to do if I died. It was supposed to work like a will, except I wasn't leaving anything but instructions on what I would want them to do lol.
"Don't feel bad, it was my time. Keep pushing! Be great for all us and keep my name alive if you can!" When I write I need to visualize what I'm saying, that's how I'm able to paint my best picture and give my best emotion. So as I'm sad mentally picturing myself in a casket my eyes sharply opened wide from being closed and I said "scratch this idea! I'm switching the whole vibe up I ain't dying anytime soon! Or at least I'm not going to think myself to death" and so I started the search for a new beat. The beat for "Beach" found me with just a couple clicks (which rarely happens). And like I said in the song the first thing I started thinking when the beat dropped was "BEACH BEACH BEACH BEACH."
I was actually saying "b---h" but wanted the song to be friendly. I desperately needed the vibe to be friendly. So the beach was the happiest place I could think of. The sun shining, the fine women, the refreshing ocean water, and of course me fully alive and not dead in a casket...It changed my mood completely you could hear it in the song. And then...I woke up the next day in the Bronx...very far from a nice beach lol and people still dying.
Any tips for hip-hop/rap artists looking to break into the industry?
Deeno: S--t, I'm trying to break in myself. If anyone reading this knows a few tricks hit my DM lol.
John Fifth: What Deeno said lol. But also, like DJ EFN says on Bonia's Kitchen, "be authentic." It's hard to understand what that even means, because most people don't know themselves. So I guess before making the music, going out into the scene, introducing yourself as a artist, etc., make sure you know yourself first. Authenticity is something money can't buy, and yet it's one of the most valuable assets to being noticed and interesting. That holds a lot of weight when you're trying to market yourself as a product that is worth investing in.
What's next for the both of you? We'd love to keep our eyes on your careers!
Deeno: We have merch coming out, at least 1-2 more music videos off the album. And you can expect a lot more music from us collectively as well as individually.
John Fifth: We have a couple more things planned around Bonia's Kitchen including some more music videos, merch, and even talks of turning the album cover into an NFT. I have a solo project I've been planning which I want to release next, and as far as live shows, catch me running around New York City at open mics. I don't care how it looks, I love performing and that's the place that's letting me get on stage. Big respect to the NYC open mic scene, follow us @deenomusic and @johnfifth to stay tuned on everything else.
Lighting Round! Don't think too hard about it—first thing that comes to mind:
Describe your musical style in three adjectives.
Deeno: Authentic, sincere, human.
John Fifth: Bars, wit, musical.

An artist who you think deserves more hype?
Deeno: Us, lol. I really think we bring something unique to hip-hop as Latin American artists and as rappers as a whole.
John Fifth: B Love & the whole Bronx drill scene.

Miami or NYC?
Deeno: I'd say Miami. NY has had it's full recognition in the culture. I believe Miami needs its just due. There are big acts already repping Miami but there's so much more talent to shine a spotlight on.
John Fifth: Miyork City

Where in New York City is your "happy place"?
Deeno: Highbridge
John Fifth: East Village Pizza by Tompkins Square Park

An album you can't live without?
Deeno: As cliche as it sounds I'd say Nas' Illmatic.
John Fifth: Bebo Y Cigala - Lagrimas Negras

Podcasts or radio?
Deeno: Radio, my car doesn't have bluetooth.
John Fifth: Podcasts.

In the spirit of Bonia's Kitchen, what awesome food would you cook for fans in your own kitchen?
Deeno: Los tres golpes, but truthfully I'm more of a bartender in the kitchen.
John Fifth: Carne Frita tostones with ketchup on the side.

Finally, personal favorite song lyric you've rapped or sang?
Deeno: "I ain't a super thug, but i'm far from b---h."
John Fifth: "You think I'm crazy but don't know me so I get that. you think cap? I give you pure Snapple lid facts."
You can listen to Deeno and John Fifth's album Bonia's Kitchen here, and follow the project's Instagram page for more updates.
Watch the duo's latest music video for "Power Glo Up" below.
Check out our selection of free stations streaming hip-hop music at Live365.com.
Ready to start your own station? Contact one of our Product Consultants or visit our website today. Keep up with the latest news by following us on Facebook (Live365 (Official) and Live365 Broadcasting) and Twitter (@Live365 and @Broadcast365)!
Article Image: Deeno (left) and John Fifth (right) pose together in front of a chain link fence and brick wall. (Photo by Diego Palomino, used with artists' permission.)