We're going to feature a different Media Creek, Inc. team member every month to help you get to know us a little bit better! Media Creek, Inc. is comprised of Live365, EmpireStreaming, and Abovecast.
This month we're featuring Media Creek's Director of Sales, Matt Kellogg!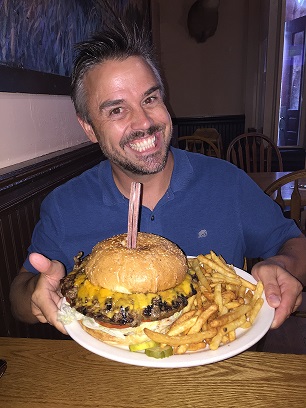 Matt Kellogg, above, with a two pound burger. He almost finished the whole thing but, as delicious as it was, he sadly couldn't finish the meal.
A true lover of radio, Matt cracked his first mic in 1997 at KOZZ's Amateur Hour and never looked back. By 2002 he was employed at Maverick Media in Santa Rosa. Matt was later promoted to music director for KXFX in 2005. From there, he began working in the San Francisco market as a traffic, news, and sports reporter for KMVQ, KCBS, and KNBR, among others.
In 2011, he transitioned from radio programming to radio advertising sales, holding positions at Cumulus Media and Salem Communications. His passion for radio led to streaming in 2014 where he worked at Live365. Following the old Live365's shutdown in 2016, Matt continued working successfully in the streaming industry with some of radio's well known stations.
Matt is a 2008 graduate of San Francisco State University with a bachelor's degree in Radio and TV.
Matt, you do A TON of work for Media Creek. Can you summarize it for us?
As director of sales my number one goal is improving Media Creek's revenue and sales for all of our companies. This includes working with our support staff with Abovecast in helping to determine the best way forward with our existing partners in order to help them grow but stay within their budgets; working closely with our VP of Broadcasting at Live365 to create synergies with enterprise-level webcasters and vendors; and with EmpireStreaming -- that's my baby right there -- I love working with radio stations, podcasters, and media's elite in creating best-in-class, unique, and disruptive ways to disseminate their content effectively and efficiently.
In addition, I work closely with our CRO, Rockie Thomas -- who I really think of as a mentor. With her experience in the world of streaming and ad-tech, I try and soak up as much as I can so I can pass it along to others to improve their business's bottom line with amazing products like our Empire Audience Network (EAN), our complex yet simple to use podcast CMS (Podium), and our bleeding edge Analytics and Reporting Manger (ARM) platform.
One other exhilarating part of my duties here is to get in front of as many people as I can to learn more about what they need and help grapple with the issues that they are currently facing. Being in front of thousands of people at events like Podcast Movement, NAB's Radio Show, and NRB gives me the humble opportunity to learn in real time the true needs of our partners and future partners as we aim to create products and services based on their feedback.
What's the best part about working for Media Creek in your opinion?
The best part of my job is working with the best content delivery network (CDN) crew on the face of the planet. No ego trips, no brotherhood of the miserable --there is nothing like that at Media Creek. Everyone here loves being here and has a voice that wants to be heard, and is. I credit our visionary CEO, Jon Stephenson, in helping to create a rich and inviting culture that allows room for us all to learn and grow -- and where there are tough decisions to be made, they are made with grace. But as I said -- our crew makes the work special here -- we are lovingly called and refer to each other as "Audio Freaks and Geeks," and we all wear that badge with pride!
Since we're all about music and audio over here, if you had to pick just ONE music genre to listen to for the rest of your life, what would that be?
That is an easier question for me to answer than you would think. If I had to pick only one type of music to listen to it would have to be praise and worship, or as the radio peeps like to call it, Contemporary Christian Music (CCM).
I have dealt with some of my biggest personal challenges ever in the last five years -- from losing my father last year, to almost losing my marriage a few years before that. As I sought to not only grapple with the pain that I was feeling in my life but also the meaning of it all, it was through praise and worship music that I was able to find restorative peace, sense the presence of God, and affirm my true identity. I know that a good praise and worship song will bring tears to my eyes today and on the last day of my life -- what other genre of music has that KIND OF POWER?
With all that said, I have to put heavy metal in a close second, haha!
I know you've written a few blog pieces about some bands you love. Who is your all-time favorite band?
All time has to be Metallica. I bought Master of Puppets when I was in 8th grade because there was a girl I had a crush on that loved Metallica and I wanted to impress her. Then I listened to the album and I never looked back. I own all their albums, am a proud Fifth Member, and really know as much as anyone about the history of the band, short of sitting down and having with dinner with them. (Which I'm still daydreaming about -- what would I ask them? Oh the possibilities!)
I have seen them in some of the most intimate venues you could imagine; from the 600 seat Phoenix Theater in Petaluma to the historic Fillmore in San Francisco. And the funny thing is, no matter how small the club or how big the stadium they are playing, they make you feel like you are a part of a family, and for Metallica fans, you know it really it is a family. You can say that about a lot of metal bands and I suppose that is why I enjoy going to metal shows more than any other. When you are there, it doesn't matter how good looking you are, what race or religion you are, or if you have disabilities -- at these shows ALL ARE WELCOME and we rejoice in the bedlam of distorted guitars, double bass drums, and gritty vocals. Now if only church could be a bit more like that!
I knew it! Metallica does has some pretty great songs. What's your favorite?
That's not really a fair question. Do I have to pick one? If I had to pick one, I have to go with "Damage Inc." from Master of Puppets. That song is so vicious, it's almost hard to imagine what James Hetfield was thinking when he wrote that song. My take on it is that the song is about being a part of a wolf pack -- for good or bad, you are in the pack! Nonetheless, it's timeless to me and if only one song could be picked that would be it... Or "Dyers Eve"...
Do you have a favorite Live365 station?
Yes, there is a station near and dear to my heart. I always check in to listen when I'm on Live365.com. It's called Gospel Music Time. The station is so sweet; you see it on the station's profile image (a couple of older high school senior portraits of what I believe to be are love birds now happily married for years taped to a table). It could be an iconic album cover in my mind and it's iconic for me on Live365. The music matches the tenderness of this photo with gospel classics from Elvis Presley, vinyl scratched tunes, and always a loving message in every song!
Learn more about Media Creek, Inc. and its brands. Have questions? Email us at hello@mediacreek.net.
Article image: ktphotography [CC0] via Pixabay.