January's featured Media Creek, Inc. team member is Solutions Specialist, Bogdan Alexiu! Media Creek, Inc. is comprised of Live365, EmpireStreaming, and Abovecast.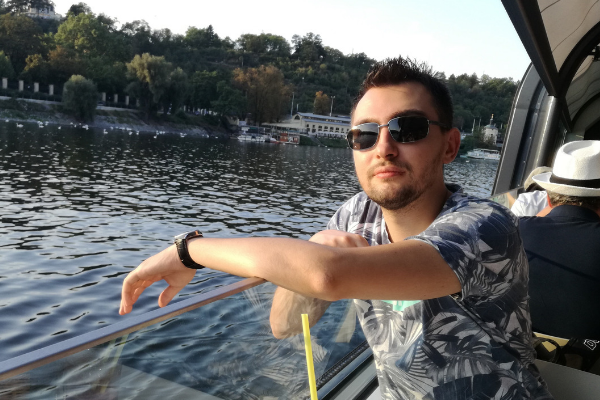 Above: Bogdan on a boat.
What all do you for for Media Creek?
Being part of the Solutions team, I am mainly involved in tech support -- assisting our customers, sometimes with information about licensing and ensuring their station is following our guidelines for being legally compliant, sometimes trying to find solutions to ensure they are able to program their station exactly the way they want it to be, and sometimes trying to find out why things don't work (this is the part I enjoy the most, as many times I feel there's a lot of detective work involved in the process and that makes it quite exciting).
Other roles involve me acting as an assistant to our project manager who is handling the relation with one of our biggest clients. This role is taking me a bit outside my comfort zone, but I'm taking it as a challenge and trying to learn as much as possible from this.
What's the best part about working for Media Creek?
Even just being part of this awesome team is great! Add being able to work remotely, things get even better. It's not that I particularly enjoy working from home (although that comes with some nice perks) -- in fact I would much rather be in the same office with my co-workers -- but not having to travel to work saves you so much time... precious time that you can invest in so many other areas of your life, such as spending quality time with your family, enjoying your hobbies, or trying to get better at something and improve yourself.
I know it's a tough question, but if you had to pick just ONE music genre to listen to for the rest of your life, what would that be?
That's actually an easy question in my case. Rap music has always been most enjoyable and relaxing for me. To be completely honest, a lot of times I don't even understand the lyrics and end up looking them up online, but it's that aggressive, fast-paced flow that keeps me hooked.
Who is your all-time favorite band/artist?
I may not enjoy his more recent work as much as I enjoyed his early albums while I was growing up, but I can still say that Eminem is my all time favorite.
What's your favorite song by Eminem?
**Do you have your own Live365 station? **
Sure! It's named Bobo's Shack. I admit I didn't put much thought into the name, or much effort into the scheduling. It's mostly a station used for testing, while also making sure it includes my favorite music.
What's your favorite station on Live365?
It's a station that plays something entirely different than what I usually listen to, but I always enjoy listening to Planet ZEB, feeling like I'm traveling back in time and hearing '80s-based content.
Learn more about Media Creek, Inc. and its brands. Have questions? Email us at hello@mediacreek.net.
Article image: ktphotography [CC0] via Pixabay.