Update as of 12/16/22: The custom mobile app now has push notification capability.
Earlier this year, we broke down our branded single-station mobile apps and hinted that they would become available across all packages this year.
Well, today's the day! We're publicly rolling out our custom mobile app add-on as part of the Live365 offering!
You can now get a mobile app that is completely custom-built for your specific station, including app name and logo – allowing you to reach a broader audience and make your station easily accessible for loyal listeners.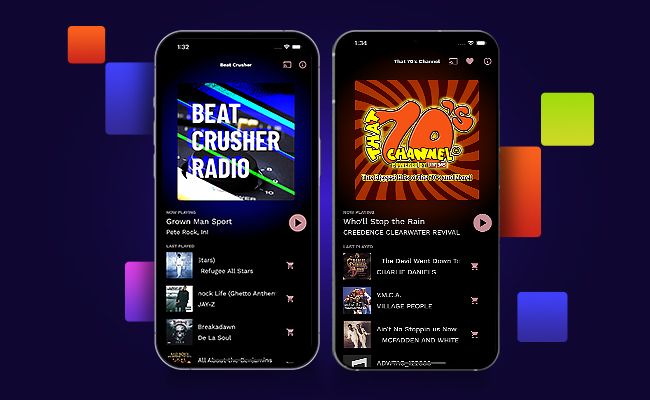 Features include:
Main App Features
Currently playing track
Last Played tracks
Metadata, including album artwork
Listener Features
CarPlay, Android Auto, & Chromecast
Sleep timer
Favorite songs
Social Sharing
Station description
Contact info
Social media share button
Branded single-station mobile apps are:
Bundled in our premium packages (Broadcast 4-5)*
Available as an add-on to any other package (Broadcast 1-3) for $49/month*
*You will also need both an Apple Developer membership and a Google Play Developer account.
Ready to get your own app?
Navigate to Billing ➡ Services and select your desired station
Click the Manage add-ons button, followed by the "Mobile App" add-on
Learn more here.
As always, your valuable feedback has directly informed what features we bring to the Live365 offering. You can make feature suggestions at any time at feedback.live365.com.
Ready to start your own station? Contact one of our Product Consultants or visit our website today. Discover thousands of free stations from every genre of music and talk at Live365.com. Keep up with the latest news by following us on Facebook (Live365 (Official) and Live365 Broadcasting) and Twitter (@Live365 and @Broadcast365)!
Article Image: The Live365 logo with the text "Custom Mobile App Add-Ons" beside two iPhones with the branded single-station mobile app open.