For the fifth year in a row, Live365 is a proud partner of World College Radio Day and the stream host of their annual 24-hour Global Marathon, set for Friday, October 6, 2023!
World College Radio Day (WCRD) is a global event, with student broadcasters around the world coming together to showcase their talent in the trade. With over 50 countries in active participation, the annual event has seen support from past ambassadors like Julian Lennon, The Black Keys, Joan Jett, Wyclef Jean, and "Weird Al" Yankovic.
The 24-Hour Global Marathon – featuring 100s of college radio stations worldwide – will be exclusively streaming on Live365. Each year, the event centers on a different relevant theme. This year's theme is "Where all Voices are Welcome" – recognizing how college radio has continually been a medium for all voices to be heard.
"Marking our 5th consecutive year of partnership, Live365 is proudly powering this year's World College Radio Day 24-Hour Global Marathon," said Live365 President Jason Stoddard. "It's such an honor to contribute to this annual event and its efforts to support the future of college radio and maintain the space for diverse voices to be heard."
"The theme this year is 'Where All Voices Are Welcome.' Now, more than ever, we need to remind everyone that college radio is a place for all voices, where every person is respected and encouraged to speak up and join the conversation," said World College Radio Day's Dr. Rob Quicke. "We know that hundreds of college radio stations are participating and celebrating the day in very creative ways, and we can't wait to hear their efforts on October 6!"
Originally founded as College Radio Day by Quicke, the goal of World College Radio Day is to harness the combined listenership of hundreds of thousands of college radio listeners throughout the world, celebrate the important contribution of college radio, and encourage listeners to seek college radio.
Learn more about the event at collegeradio.org and don't forget to tune in on Friday, October 6 at 00:00 EST / 06:00 CEST (12am ET). Check the schedule below for the full 24-hour lineup!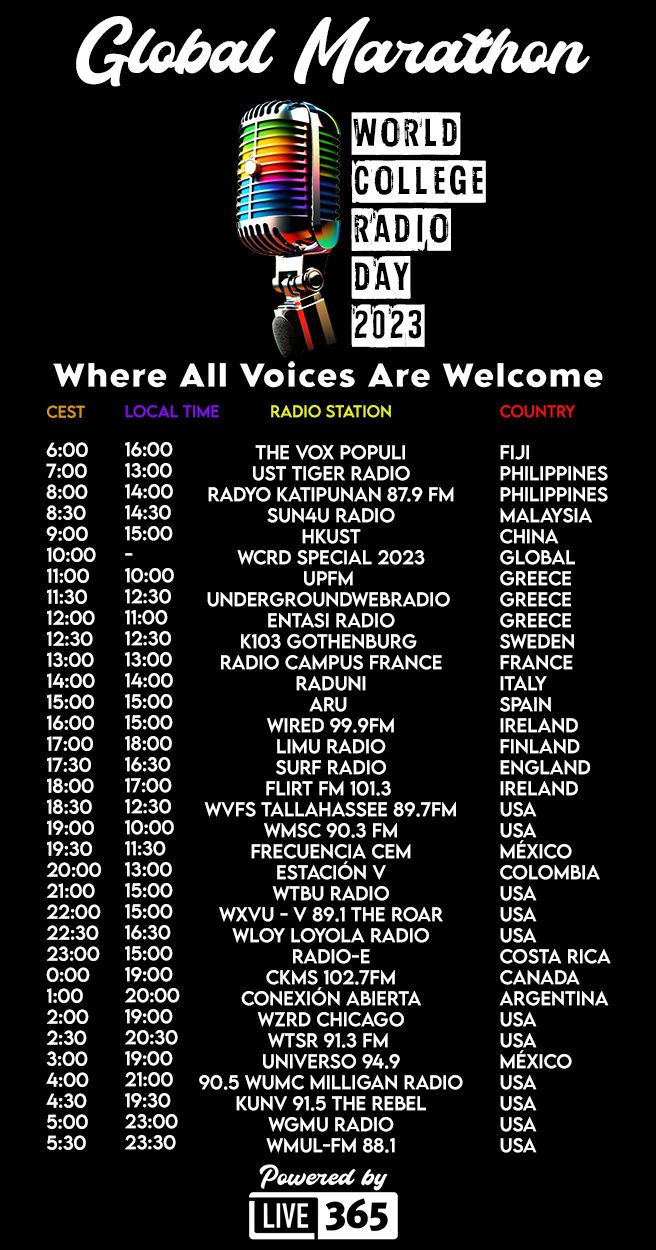 Ready to start your own station? Contact one of our Product Consultants or visit our website today.
Discover thousands of free stations from every genre of music and talk at Live365.com. Rather listen on our app? Download the Live365 app on iOS or Android. Keep up with the latest news by following us on Facebook (Live365 (Official) and Live365 Broadcasting) and Twitter (@Live365 and @Broadcast365)!
Article Image: World College Radio Day 2023 promotional image with the "Powered by Live365" logo added.