Super Bowl LVI is happening this Sunday, February 13! While we love the thrill of watching the teams compete, eating snacks on the couch with family, and laughing at funny commercials, we couldn't be more excited for this year's halftime show. This year promises to feature an exciting performance from Dr. Dre, Eminem, Mary J. Blige, Snoop Dogg, and Kendrick Lamar.
We've been daydreaming about how epic Sunday night's show will be. While we anticipate the future, we figured we'd throw it back for this week's top 10 and talk about more halftime shows. But not the good ones - we already covered those in our 10 Best Super Bowl Halftime Show Performances list. This time, we're spicing things up and approaching this list from another angle: counting down the worst halftime shows in Super Bowl history.
It took a while for the NFL to find their footing when they first started producing Super Bowl halftime shows. There have been many corny, boring, and just downright weird acts that have luckily been forgotten to the sands of time. Just for fun, we'll be digging up those crazy performances - as well as more recent shows that didn't quite sit right with viewers - for this list. Without further ado, let's get into some cringey history!
10. Pete Fountain, Irma Thomas, Doug Kershaw, and Snoopy (1990)
When the Super Bowl still relied on spectacle for halftime shows instead of headliners. This was...okay, at most. The 1990 show was supposed to be a tribute to New Orleans as well as a 40th anniversary celebration of the Peanuts comic strips.
You can't say the NFL didn't try. This was cute with the big steamboat, dancers, and the New Orleans music and all, but it just wasn't what football fans wanted. Especially because those costumes of Charlie Brown, Linus, and Lucy look a little creepy. Just a little.
9. Phil Collins, Christina Aguilera, Enrique Iglesias, Toni Braxton, and Tina Turner (2000)
The theme of this performance was supposed to be a "millennium celebration" due to Y2K. The lineup was promising and no one did a "bad job" per say...it was just a let-down because instead of the celebrities performing their beloved hits for fans, they performed mushy songs like "Celebrate the Future" and Collins' love theme from Tarzan.
Not the best Super Bowl fare. It taught us all an important lesson: never let Disney touch the halftime show.
8. Janet Jackson, Justin Timberlake, P. Diddy, Nelly, Kid Rock, and Jessica Simpson (2004)
You may think because of the infamous "Nipplegate" moment, this would easily take the #1 spot on our list. But truthfully, the first 11 minutes of this performance were spectacular. If the "wardrobe malfunction seen round the world" hadn't happened, this probably would have gone down as the best halftime show in Super Bowl history.
The lineup present in the 2004 halftime show was messy, but in a good way. It was pure American indulgence with Jessica's shrieking, Janet's killer dance moves, Diddy floating on a platform, and those cheerleaders chanting, "Hey, Diddy you're so fine, you're so fine, you blow my mind, hey Diddy!" before doing the same thing with Nelly. Yup. If only that final moment had not happened...people would actually remember all the good things about this performance.
We still feel sorry for Janet and all the pain she went through. At least she has not one, but two documentaries to uplift her reputation now.
7. Disney and New Kids On the Block (1991)
We'll say it again: NEVER LET DISNEY TOUCH THE HALFTIME SHOW! This warped mashup of Disney cheer and New Kids on the Block came out of nowhere in 1991 and we're still scratching our heads wondering who thought this was a good idea.
Instead of any cool hits (save for "Step by Step"), the New Kids were left performing their sappiest track: "This One's For the Children." It segued into a squeaky clean Disney kiddie choir. Oh, and Disney thought it was cool to perform the ever-annoying "It's a Small World (After All)" right when the Gulf War started. It was the last thing anyone wanted to hear. To be fair though, this is when the NFL realized the power of having mainstream musicians do the halftime show...
6. Gloria Estefan and Olympic Figure Skaters (1992)
...Which is why, the following year, they got Gloria Estefan to perform. But for some strange reason, the NFL just couldn't let go of their "themed pageantry" idea for halftime shows. So they got giant snowmen, figure skaters Dorothy Hammill and Brian Boitano, and hideous dancing imps waving hockey sticks to Queen's "Don't Stop Me Now" to entertain people. Yuck.
The "Winter Magic" idea was supposed to commemorate the fact that the game was in Minnesota, but it all just felt really cheap and boring. It was yet another case of the Super Bowl trying to be original instead of appealing to the average American football fan. Fortunately, the NFL finally understood the problem and took the halftime show more seriously the next year. And they finally got it right: Michael Jackson gave one of the greatest halftime shows ever in 1993.
5. Every Show Featuring 'Up With People' (1976-1986)
If you're from an older generation and remember watching this group on your television set, you may actually appreciate the Up With People performances due to the nostalgia they bring. Good for you.
But for those of us born around or after the 80s, watching these shows just feels like another version of reality. What on earth is going on here? Why did the NFL let a cheesy nonprofit group of young people throw high school showchoir-esque numbers in the middle of American TV's biggest night? Why is watching it now just so unbelievably funny?
4. Maroon 5 (2019)
This show wasn't so much cringey as it was disappointing in many different ways. Amid all the outrage over the NFL's ousting of Colin Kaepernick, Cardi B and Rihanna turned down offers to perform the show. The best the NFL could muster was Adam Levine and Maroon 5, who did nothing to excite the audience with mellow tracks like "Harder To Breathe" and "Misery." And then Adam Levine took his shirt off - and no one cared. And then Travis Scott and Big Boi came out. And no one cared about that either.
Oh, and let's not forget how there was an online petition asking the NFL to perform the song "Sweet Victory" from Spongebob Squarepants due to the untimely passing of show creator Stephen Hillenburg. Having a good Bubble Bowl reference and maybe getting Levine to sing "Sweet Victory" would have been so satisfying. Instead, the NFL chickened out with a weird clip of Spongebob and Squidward that made no sense out of context.
To be honest, it would have just been better if no one performed this year.
3. Black Eyed Peas (2011)
We still have those awful words burned in our brains: "Ladies and gentlemen...the one and only...Slaaaash!" Poor, poor Slash. We thought this trainwreck of a show would be saved by his moment in the spotlight - until Fergie walked over, started weirdly gyrating near the famous guitarist, and proceeded to sing "Sweet Child o' Mine" without her natural voice. No, she just had to do a horrible imitation of Guns N' Roses lead singer Axl Rose. It made our ears bleed.
It was safe to say the Black Eyed Peas never recovered after this show. Even Usher couldn't save this thing. Oh, and this was the same Super Bowl where Christina Aguilera did her memorable interpretation of the National Anthem.
2. Indiana Jones and the Temple of the Forbidden Eye (1995)
NEVER. LET. DISNEY. TOUCH. THE HALFTIME SHOW!!!
Oh man. What can we say about the Indiana Jones halftime show that hasn't been said before? This "performance," if you can even call it that, will forever live in infamy as one of the worst things the NFL has ever let us see.
In 1995, Disney whipped up a shameless marketing gimmick with an Indiana Jones theme to promote a new theme park ride. The show was just a spectacle of sets and characters from the film series. This included impersonators for Indy and Marion, the latter of whom felt more like Willie due to her annoying shouts whenever she was in trouble. (She literally ran right into those bad guys!)
If that wasn't enough, someone thought it was a good idea to bring out Patti LaBelle, Tony Bennett, Teddy Pendergrass, and Miami Sound Machine after the spectacle to sing "Can You Feel the Love Tonight?" In a year of high-profile disasters - Waterworld, Hurricane Peter McNeely, the fateful day Bill Clinton's secretary announced, "Sir, the girl's here with the pizza," - this disaster was probably the worst. TV viewers all across America probably said the same thing the announcer says in the beginning of this cheese-fest: "Hold on, I've got a bad feeling about this!"
1. Elvis Presto (1989)
Bringing out the rotting corpse of Elvis Presley would have been a better show than putting this corny magician/impersonator into the spotlight.
We'll never forget Elvis Presto and his odd stadium magic tricks. During the show, Elvis Presto, accompanied by his backup singers, performed a card trick where the audience was asked to pick from four cards by clapping their hands. Hilariously, next to no one clapped, and the several cutaways to the genuinely disinterested crowd helped cement this halftime show as a dark chapter of American history.
On the semi-upside, this was the first network show to be broadcast in 3D! Which we guess is kind of cool? Who knows - maybe Elvis Presto is off in Las Vegas somewhere performing his tricks and tracks for people who actually care. We're happy the NFL has kept him far away from future halftime shows.
In fact, the NFL is so embarrassed by the Elvis Presto disaster, they've blocked sharing YouTube videos of the event onto other websites! Fortunately, we've got a magic trick to fix that. You can see the full cringey performance here.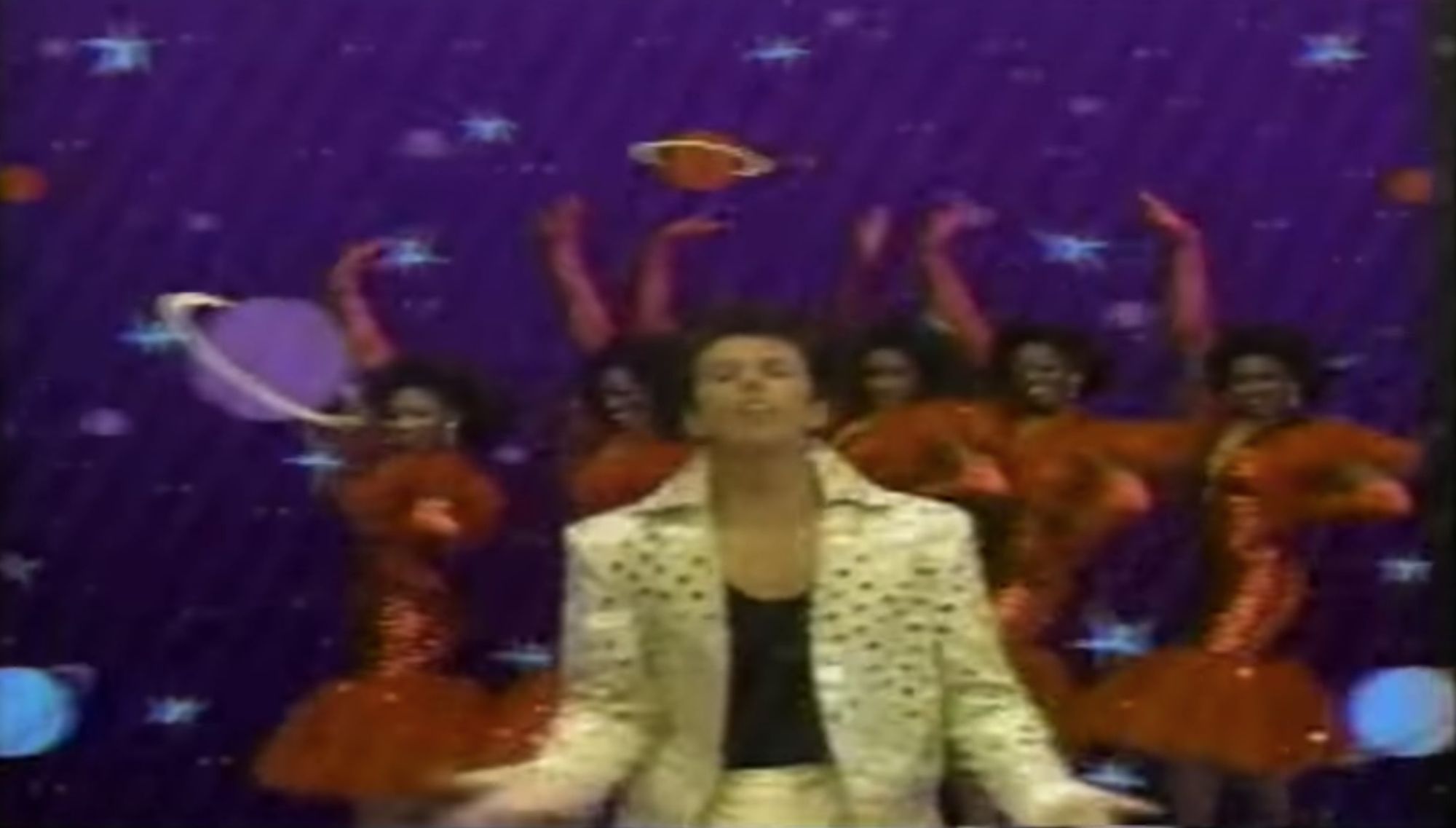 Discover thousands of free stations from every genre of music and talk at Live365.com.
Ready to start your own station? Contact one of our Product Consultants or visit our website today. Keep up with the latest news by following us on Facebook (Live365 (Official) and Live365 Broadcasting) and Twitter (@Live365 and @Broadcast365)!
Article Images: Fergie sings next to guitarist Slash during the Super Bowl XLV Halftime Show, Elvis Presto in front of some dancers during the Super Bowl XXIII Halftime Show. (BBellidos and Jim Schuyler via YouTube.)