Like Apple Podcasts, Google Podcasts, Spotify, TuneIn, and Stitcher, Amazon Music is another popular site for podcasts. While the podcast platform currently accounts for only .5% of all podcast listeners, Amazon Music itself has a listener base of 55 million. The podcast market on the site is expected to grow quickly, so it's worth it to submit your show to their platform!
Although Amazon Music doesn't offer analytics like Apple Podcasts or Google Podcasts, it will still pull information directly from your hosting provider so that your podcast will continuously update in the platform's directory. Amazon Music is also connected to Alexa speakers, so anyone who uses one will also be able to find your podcast!
Submitting to Amazon Music is quite easy, so long as you have an RSS feed URL. Here's how to do it.
Submitting Your Podcast to Amazon Music
Before you submit, make sure you have at least one episode of your podcast live on the internet, a description for your show, and original artwork. Besides those things, all you need is your show's RSS feed URL to get started.
First, go to Amazon Music's podcast submission page. You will need to sign in with an Amazon account in order to submit. Once you're logged in, click the blue "Get Started" button on the left side of the page.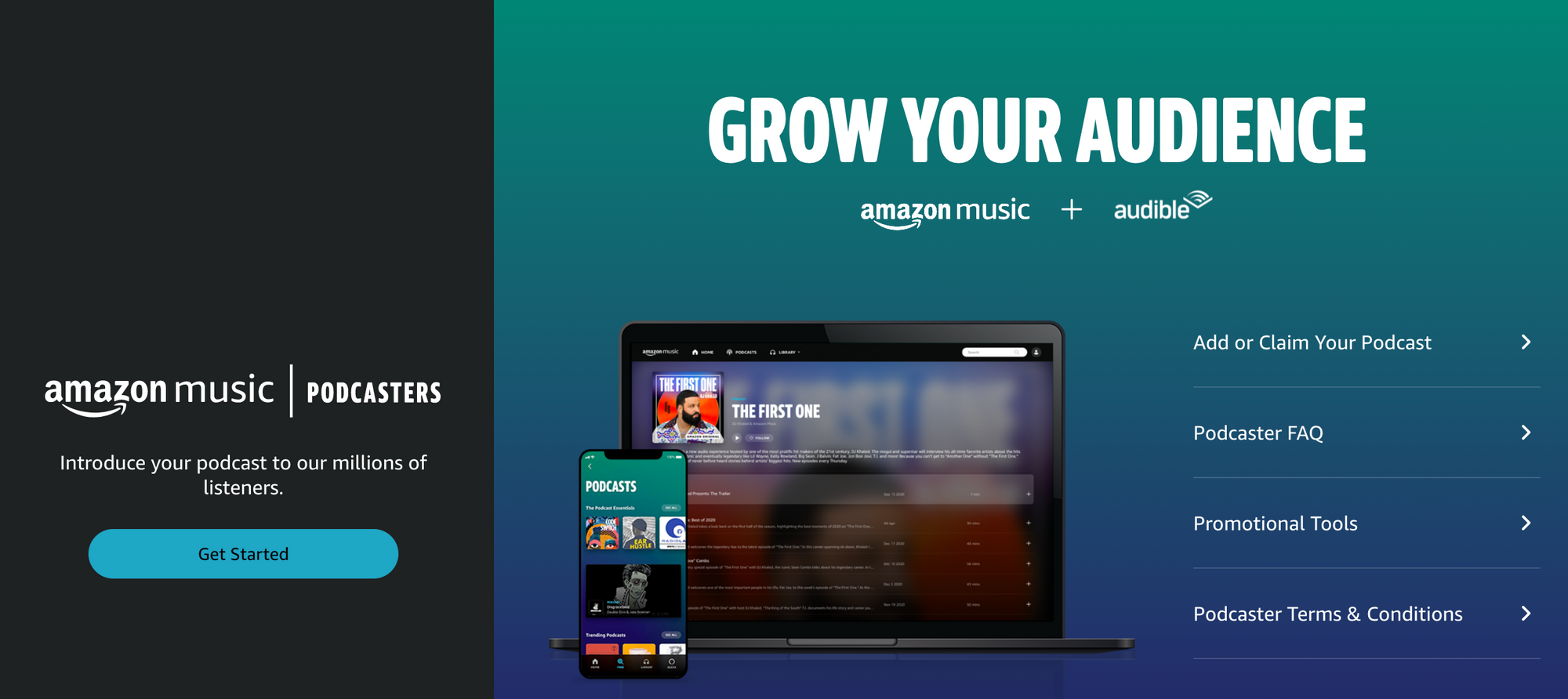 You will then be redirected to a page that will ask you to copy and paste your podcast's RSS feed URL into the bar. Doing so will allow Amazon to identify your podcast. Once you've pasted the RSS feed link, click the little blue "Submit" button at the bottom of the page.
Also note that on this page, Amazon Music asks what country your podcast is primarily for in order to showcase it to the most relevant audience. However, answering this question is optional. If you'd like to answer, simply click the "COUNTRY" dropdown and select the country that best applies.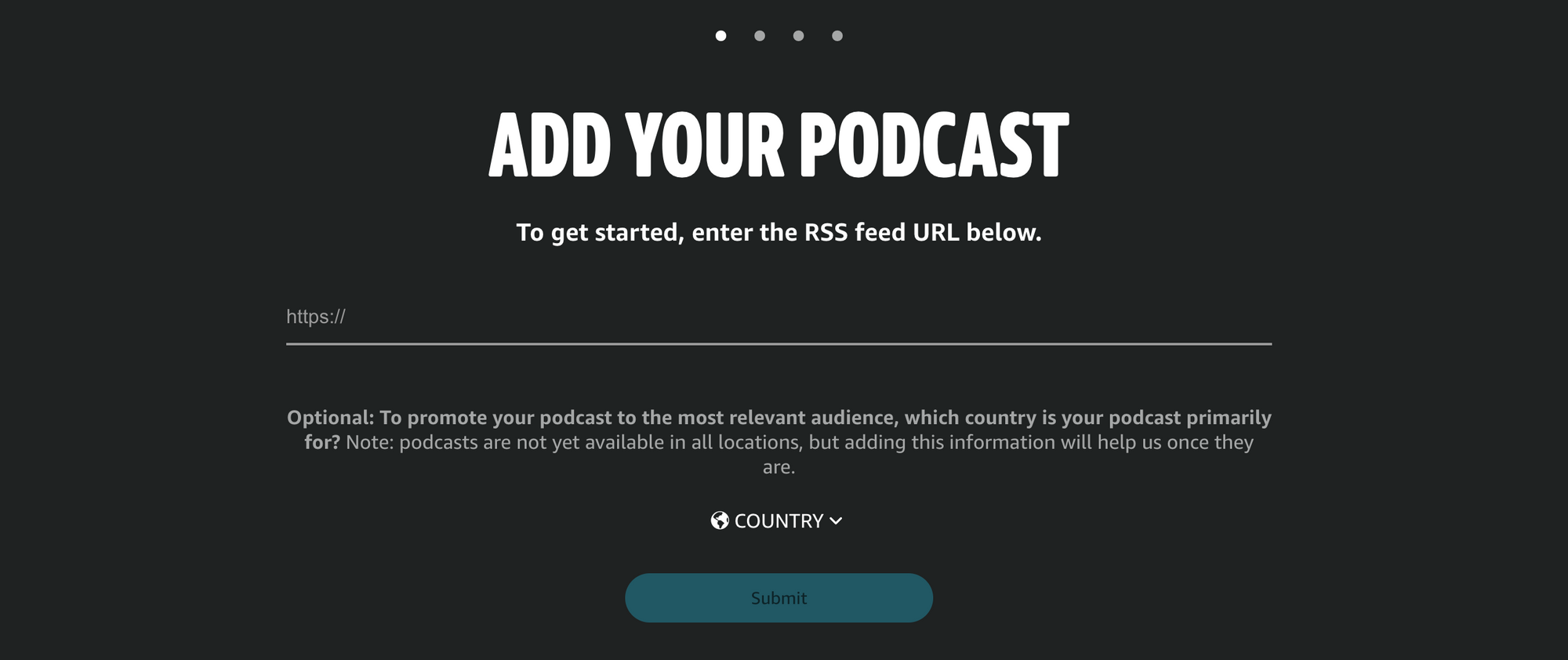 If Amazon identifies your podcast, you will be asked to claim it. Agree to and check the Terms of Service box, then click the blue "Confirm Email" button at the bottom of the page.
Next, check for a confirmation email. Once you enter the confirmation code into Amazon Music, you're all set! It will take no longer than 24 hours for your show to be listed, and you can submit as many podcasts as you want. Your show will also be listed on Amazon Music's sister service for audiobooks and podcasts, Audible.
We hope you found this guide useful. Click here for a directory of more great platforms to submit your show to. Happy podcasting!
Interested in podcasting with Live365? Join our waitlist to be the first to be notified when podcasting is available on the Live365 platform.
Discover thousands of free stations from every genre of music and talk at Live365.com. Keep up with the latest news by following us on Facebook (Live365 (Official) and Live365 Broadcasting) and Twitter (@Live365 and @Broadcast365)!
Article Image: An Amazon Alexa with the Amazon Music logo. (hamburgfinn via Pixabay and Amazon.com [Available through Public Domain] via Wikimedia Commons.)