While there are countless online radio directories out there, one of the most popular directories is TuneIn. Your station appears in the Live365 directory already, but listing your station with TuneIn in addition can be beneficial if you are looking to grow your audience. At the time of writing, TuneIn is accepting radio station submissions and reviewing them on a case-by-case basis.
Here's a step-by-step guide on how to submit your radio station to TuneIn!
1. Finding the Application
TuneIn currently processes all their radio station submissions through a Google Form. You can click here to be led to their help center page with more information about submitting your station to TuneIn, or you can click here to go directly to the form.
2. Starting the Application
The first few questions of the Google Form are fairly simple. Fill out your name and your job title (e.g. Station Owner, Host, CEO, etc.). Next, supply your email address. TuneIn will ask if you have your own company. If you do, fill in the company's legal name. If you do not, just type in "N/A." (Alternatively, you could put in the name of your radio station.)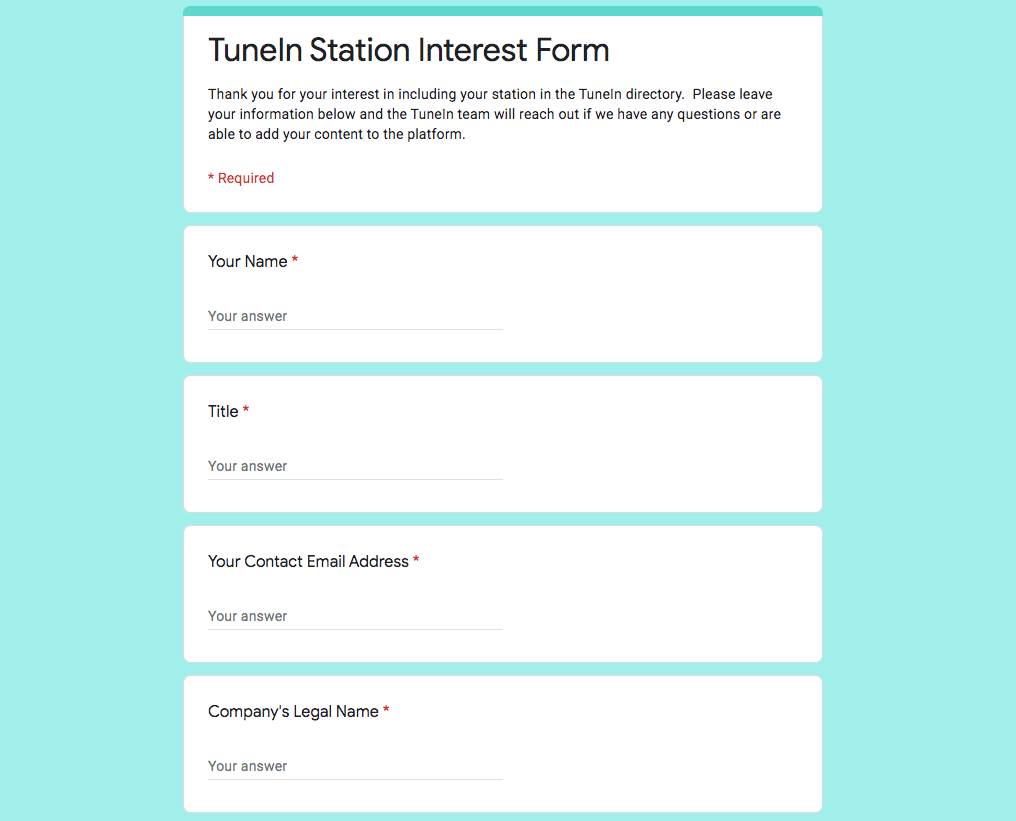 3. Station Details
Next, provide the name of your radio station. If you have multiple stations you would like to submit to TuneIn, you are allowed to list more than one name in the "Station Name(s)" field.
You will then be asked to select if your radio station is a Terrestrial Broadcast, DAB, or Pure Play. Pure Play means a station that's native to online, that only streams over the internet. As a Live365 station, you will want to select Pure Play here.
After that, select which genre your radio station is (music, news, talk, sports, or other). You can then supply your station's website if applicable.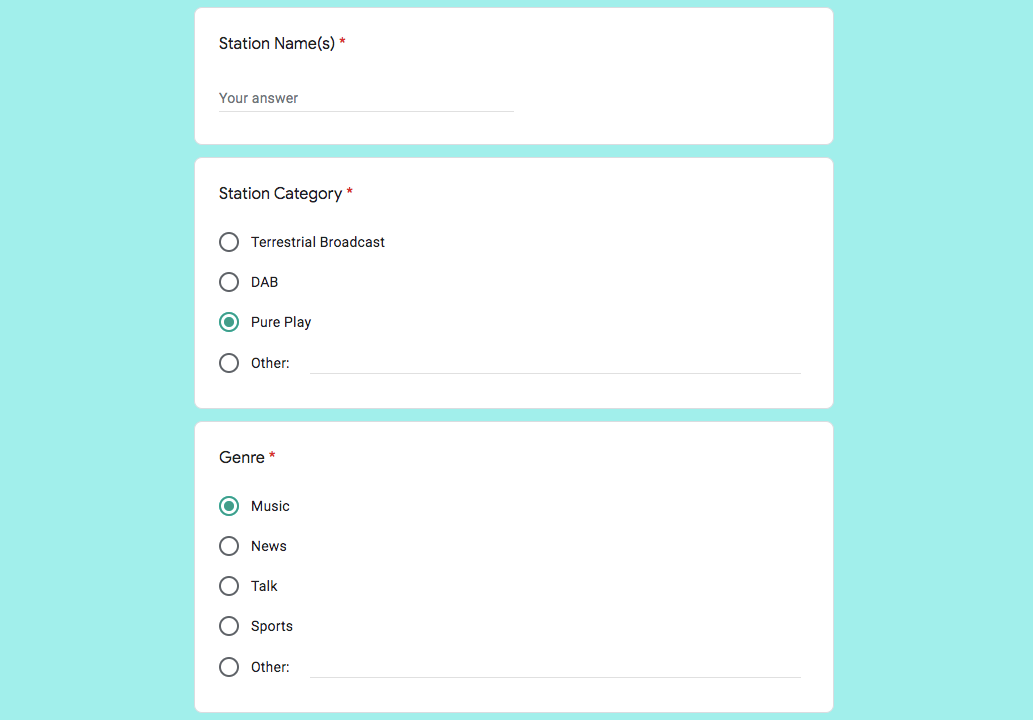 Next, fill in your location (the country you and your station are based out of), and list which territories where you have content distribution rights. This would be the U.S., U.K., and Canada for all Live365 stations, since those are the countries we currently provide music licensing coverage for.

4. Station Analytics
After filling out your station's details, TuneIn will ask how many unique listeners, total listening hours, and session starts your existing station has received from 30-90 days.
With Live365, you can find this information within the Dashboard, under "Analytics." Make sure to click the "Historical" analytics, and adjust the time range as needed in order to get the correct data.

If you need help or would like more information about navigating through your station's analytics, see our Knowledge Base article here.
5. Commercial Minutes Per Hour
Finally, TuneIn will ask your station's number of commercial minutes per hour. For Live365 stations, this number is 4 minutes per hour. The only instance in which this number would be different is if your station is under a "No Ads" package.
Finally, if you already have a station listed in the TuneIn directory, you can indicate so by filling in the "yes" option and supplying that station ID.
After you have filled everything out, click "submit," and you're done! The TuneIn team will contact you if they have any further questions or are able to add your content to the platform.
We hope you found this guide helpful. Happy broadcasting!
Ready to start your own station? Contact one of our Product Consultants today.
Discover thousands of free stations from every genre of music and talk at Live365.com. Keep up with the latest news by following us on Facebook (Live365 (Official) and Live365 Broadcasting) and Twitter (@Live365 and @Broadcaster365)!
Article Image: TuneIn logo (TuneIn [Available through Public Domain] via Wikimedia Commons.)